[Chart courtesy of MarketWatch.com]
Moving the markets
An early bounce, indicating dip buyers stepping in to take advantage of lower prices because of yesterday's slam, ran out of steam with the major indexes lacking bullish conviction to turn this session into a turnaround Tuesday.
Despite valiant efforts, the Dow and the S&P 500 gave up all early gains and slipped slightly into the red, but the Nasdaq managed to buck the trend by closing marginally in the green.
In my advisor practice, we finally pulled the trigger and sold the value ETF RPV, which had been dancing around its trailing sell stop for quite some time and did not show any signs of life during the early rebound.
This ETF performed well early in the year but has lately been a disappointment. This move reduces some our equity exposure which, given current uncertainties, appears to be a wise choice. Once volatility dies down again, and we are moving into the seasonally strong part of the year, we will replace this empty spot with a more appropriate ETF.
All eyes were on the current Fed meeting with the results due out tomorrow. Traders are looking for Fed head Powell to reveal some of the Central Bank's plans to taper its bond buying agenda, especially the timing of such. Also eagerly awaited are the quarterly economic forecasts along with a statement on interest rates.
ZeroHege posted an interesting take about tomorrow's September 22nd:
As infamous market-seer, W.D. Gann once noted, September 22nd (the Autumnal Equinox) is the most important date in markets – when markets are more likely to reverse than any other day of the year. For some reason, stocks, commodities, and currencies have a curious tendency to make major tops or bottoms on this day.
Today's rebound was lacking breadth, which compares the number of stocks below their respective 200-day Moving Averages to the index, a picture that is worth a thousand words. This another reason why reduced equity exposure in these uncertain times is a good idea.
The US Dollar rode the roller coaster and ended just about unchanged, while bond yields edged higher with the 10-year now back over 1.32%. Gold rose +0.64% and managed to be a haven of safety, at least for this day.
2. ETFs in the Spotlight
In case you missed the announcement and description of this section, you can read it here again.
It features some of the 10 broadly diversified domestic and sector ETFs from my HighVolume list as posted every Saturday. Furthermore, they are screened for the lowest MaxDD% number meaning they have been showing better resistance to temporary sell offs than all others over the past year.
The below table simply demonstrates the magnitude with which these ETFs are fluctuating above or below their respective individual trend lines (%+/-M/A). A break below, represented by a negative number, shows weakness, while a break above, represented by a positive percentage, shows strength.
For hundreds of ETF choices, be sure to reference Thursday's StatSheet.
For this current domestic "Buy" cycle, here's how some our candidates have fared: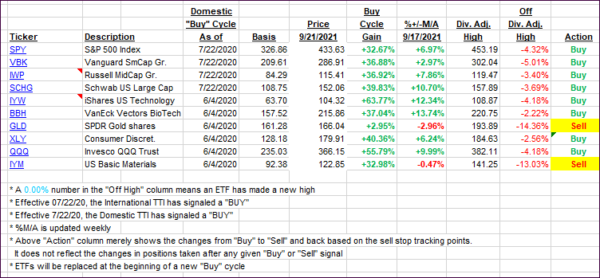 Click image to enlarge.
Again, the %+/-M/A column above shows the position of the various ETFs in relation to their respective long-term trend lines, while the trailing sell stops are being tracked in the "Off High" column. The "Action" column will signal a "Sell" once the -8% point has been taken out in the "Off High" column. For more volatile sector ETFs, the trigger point is -10%.
3. Trend Tracking Indexes (TTIs)
Our TTIs slipped a tad, as a rebound attempt failed.
This is how we closed 09/21/2021:
Domestic TTI: +3.62% above its M/A (prior close +4.00%)—Buy signal effective 07/22/2020.
International TTI: +1.41% above its M/A (prior close +1.43%)—Buy signals effective 07/22/2020.
Disclosure: I am obliged to inform you that I, as well as my advisory clients, own some of the ETFs listed in the above table. Furthermore, they do not represent a specific investment recommendation for you, they merely show which ETFs from the universe I track are falling within the specified guidelines.
Contact Ulli