Good Information Can Only Take You So Far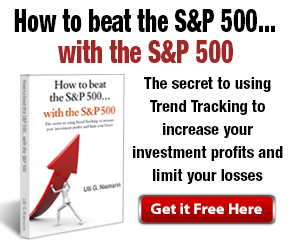 Information can give you a sense of what might be your next best move in managing your investments. However, nothing-and I mean nothing-can substitute for professional investment management.
Preserving Your Wealth So It Can Grow
We have been investing for over 25 years. Our track record includes such milestones as pulling our clients out of the stock market in October, 2000, preserving the lion's share of their assets, and moving back into the market in April, 2003, just as it began its upward swing. We did the same thing in 2008 when the market tanked again and investors watched their portfolios fall 40% and more. We executed our sell signal just at the start of the free fall (6/23/2008), and when our indicators show it's time to buy, we will be back in the game and ready to grow assets.
A Modest Amount to Begin
Through our sister company, Southland Investments, we offer personal investment management using our methodical approach to investing in ETFs. To serve the widest audience possible we have the lowest assets minimums in the nation. As little as $50,000 will get you started. And our managed plans can be used for IRAs, Rollover IRAs, Rollover 401ks, brokerage accounts as well as Foundations.
Please review my above referenced book "How to beat the S&P 500…with the S&P 500" or our Investment Policy Statement for more details about our investment approach.
Earning Your Confidence with a Money Back Guarantee
As an additional incentive to bring you aboard, we offer a unique 90-day, 100%, money back guarantee. While we can't guarantee a return on your investment, we will set up your account at our custodian, and allow you 90 days to evaluate how we implement our methodology. If for any reason you are not completely satisfied, we will fully refund the management fees with no questions asked.
We Are Glad to Speak with You
We would welcome the opportunity to explore how you might benefit by taking advantage of our experience along with our good information.
Southland Investments
18685 A-Main Street #606
Huntington Beach, CA 92648
714.841.5804
ulli@successful-investment.com
Do Call Now
We enjoy speaking with people about our unique approach to investing and protecting wealth. So call or send us an email. We look forward to learning of your investment objectives and seeing if we can assist you in achieving them.