ETF Data updated through Thursday, September 23, 2021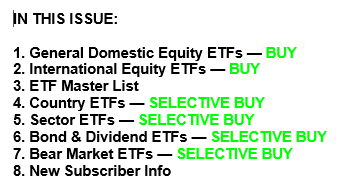 Methodology/Use of this StatSheet:
1. From the universe of over 1,800 ETFs, I have selected only those with a trading volume of over $5 million per day (HV ETFs), so that liquidity and a small bid/ask spread are assured.
2. Trend Tracking Indexes (TTIs)
Buy or Sell decisions for Domestic and International ETFs (section 1 and 2), are made based on the respective TTI and its position either above or below its long-term M/A (Moving Average). A crossing of the trend line from below accompanied by some staying power above constitutes a "Buy" signal. Conversely, a clear break below the line constitutes a "Sell" signal. Additionally, I use an 8% trailing stop loss on all positions in these categories to control downside risk.
3. All other investment arenas do not have a TTI and should be traded based on the position of the individual ETF relative to its own respective trend line (%M/A). That's why those signals are referred to as a "Selective Buy." In other words, if an ETF crosses its own trendline to the upside, a "Buy" signal is generated. Since these areas tend to be more volatile, I recommend a wider trailing sell stop of 8%-10% depending on your risk tolerance.
If you are unfamiliar with some of the terminology, please see Glossary of Terms and new subscriber information in section 9.
1. DOMESTIC EQUITY ETFs: BUY — since 07/22/2020
Click on chart to enlarge
Our main directional indicator, the Domestic Trend Tracking Index (TTI-green line in the above chart) has now rallied above its long-term trend line (red) by +6.32% and remains in "BUY" mode as posted.
Read More