[Chart courtesy of MarketWatch.com]
1. Moving the Markets
Stocks rebounded today from two straight days of losses. All major indexes advanced. Notable gains on the Nasdaq seemed to be led by Apple (AAPL), as its shares headed back up 3.1% to rise above the $100 mark again. Yesterday, Apple's stock went on a wild ride throughout its numerous product announcements, but today the stock seemed to regain its footing again and stabilize.
Dollar General (DG) was back in headlines today as its pending takeover of Family Dollar (FDO) officially became hostile, as Dollar General decided to take its $9.1 billion takeover directly to Family Dollar shareholders. Family Dollar's corporate board seems to be leaning more towards the offer from its other competitor, Dollar Tree (DLTR).
Monday, I touched briefly on the latest downward trend in oil prices. Well, today we received further confirmation that the trend continues as we heard that weekly oil inventory numbers show a huge build up in inventory. Brent crude oil remains below $100/barrel and is now at a 17-month low.
9 of our 10 ETFs in the Spotlight gained, 1 was unchanged and 1 made a new yearly high. Take a look at the tables below.
2. ETFs in the Spotlight
In case you missed the announcement and description of this section, you can read it here again.
It features 10 broadly diversified ETFs from my HighVolume list as posted every Monday. Furthermore, they are screened for the lowest MaxDD% number meaning they have been showing better resistance to temporary sell offs than all others over the past year.
Here are the 10 candidates: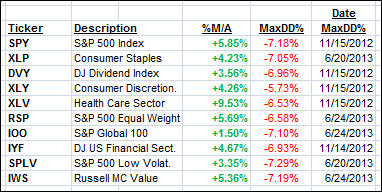 All of them are currently remaining in "buy" mode, meaning their prices are above their respective long term trend lines by the percentage indicated (%M/A).
Year to date, here's how the above candidates have fared so far:
To be clear, the first table above shows the position of the various ETFs in relation to their respective long term trend lines (%M/A), while the second one tracks their trailing sell stops in the "Off High" column. The "Action" column will signal a "Sell" once the -7.5% point is taken out in the "Off High" column.
3. Domestic Trend Tracking Indexes (TTIs)
Our Trend Tracking Indexes (TTIs) recovered and edged slightly higher:
Domestic TTI: +2.62% (last close +2.41%)
International TTI: +2.11% (last close +2.00%)
Disclosure: I am obliged to inform you that I, as well as advisory clients of mine, own some of these listed ETFs. Furthermore, they do not represent a specific investment recommendation for you, they merely show which ETFs from the universe I track are falling within the guidelines specified.
Contact Ulli