[Chart courtesy of MarketWatch.com]
1. Moving the Markets
Domestic equities fell for a second straight day as the Dow dropped almost 100 points, the S&P 500 slid back below 2000 and the Nasdaq fell 0.88%.
Apple (AAPL) stole many headlines today as it released numerous announcements about new and upcoming product releases. The stock bounced up and down all day as investors showed a mixed bag of emotions about the 2015 release of its smartwatch, as well as the upcoming release of the next generation of iPhones. For the day, shares lost about 0.4%.
Apart from Apple's announcements, the "hacker" news from Home Depot (HD) didn't help the market either. Home Depot fell about 2% to $88.93 after the home improvement chain said hackers had broken into its in-store payment systems. From Target, to JP Morgan and now to Home Depot, there is an increasing trend that is raising concerns that other large corporations will be next.
Internationally, stocks were lower in Europe with Germany's DAX index down 0.5% and France's CAC 40 index also falling 0.5%. Asian stock markets were muted amid holidays in Hong Kong and South Korea. Japan's Nikkei 225 gained 0.3% to 15,749.15.
With the slide in the major indexes, it was no surprise that all of our 10 ETFs in the Spotlight retreated as well.
2. ETFs in the Spotlight
In case you missed the announcement and description of this section, you can read it here again.
It features 10 broadly diversified ETFs from my HighVolume list as posted every Monday. Furthermore, they are screened for the lowest MaxDD% number meaning they have been showing better resistance to temporary sell offs than all others over the past year.
Here are the 10 candidates: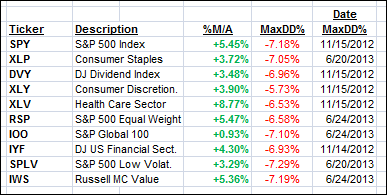 All of them are currently remaining in "buy" mode, meaning their prices are above their respective long term trend lines by the percentage indicated (%M/A).
Year to date, here's how the above candidates have fared so far:
To be clear, the first table above shows the position of the various ETFs in relation to their respective long term trend lines (%M/A), while the second one tracks their trailing sell stops in the "Off High" column. The "Action" column will signal a "Sell" once the -7.5% point is taken out in the "Off High" column.
3. Domestic Trend Tracking Indexes (TTIs)
Our Trend Tracking Indexes (TTIs) headed south and closed as follows:
Domestic TTI: +2.41% (last close +2.79%)
International TTI: +2.00% (last close +2.23%)
Disclosure: I am obliged to inform you that I, as well as advisory clients of mine, own some of these listed ETFs. Furthermore, they do not represent a specific investment recommendation for you, they merely show which ETFs from the universe I track are falling within the guidelines specified.
Contact Ulli