[Chart courtesy of MarketWatch.com]
1. Moving the Markets
Stocks ended mixed after the Federal Reserve's afternoon decision to leave interest rates unchanged was no surprise to investors. The Fed, which hiked rates off 0% back in December for the first time in nearly a decade, has kept rates steady this year, citing uncertainty abroad, the aftermath of the 'Brexit' vote and an early-year slowdown in the U.S. Many presume that the next rate hike will not take place until early 2017.
What that really tells you is that economic conditions are in such bad shape and continually worsening that even a tiny 1/8% raise in rates might have a severely negative effect on the financial markets and most likely would pull them off their lofty levels. As I repeatedly posted, the Fed's goal is to keep major indexes elevated in order to keep the recovery illusion alive.
In earnings news, the big winner of the day was Apple (AAPL), which saw its shares surge about  7% to a three-month high after iPhone sales (which fell 15%) still came in above estimates at 40.4 million units. The maker of the iPhone, which has lost its luster with investors after posting its first-ever iPhone sales drop in Q1, also forecast better sales in the current quarter.
In other earnings news, Dow component Boeing (BA) saw its shares rise 0.8% after it topped profit estimates and reaffirmed its revenue guidance for the rest of the year. Coca-Cola (KO) shares fell 3.3% on a sales miss and a downgrade of its outlook.
Eyes remain focused this week for further earnings reports and big economic data numbers due Friday.
2. ETFs in the Spotlight
In case you missed the announcement and description of this section, you can read it here again.
It features 10 broadly diversified ETFs from my HighVolume list as posted every Monday. Furthermore, they are screened for the lowest MaxDD% number meaning they have been showing better resistance to temporary sell offs than all others over the past year.
Here are the 10 candidates:

The above table simply demonstrates the magnitude with which some of the ETFs are fluctuating in regards to their positions above or below their respective individual trend lines (%M/A). A break below, represented by a negative number, shows weakness, while a break above, represented by a positive percentage, shows strength.
For hundreds of ETF/Mutual fund choices, be sure to reference Thursday's StatSheet.
Year to date, here's how the above candidates have fared so far: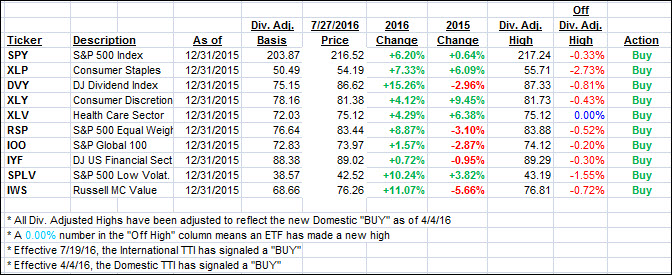 Again, the first table above shows the position of the various ETFs in relation to their respective long term trend lines (%M/A), while the second one tracks their trailing sell stops in the "Off High" column. The "Action" column will signal a "Sell" once the -7.5% point has been taken out in the "Off High" column.
3. Trend Tracking Indexes (TTIs)
Both of our Trend Tracking Indexes (TTIs) edged up a bit with the International one taking a bigger jump.
Here's how we closed on 7/27/2016:
Domestic TTI: +2.87% (last close +2.72%)—Buy signal effective 4/4/2016
International TTI: +2.90% (last close +2.45%)—Buy signal effective 7/19/2016
Disclosure: I am obliged to inform you that I, as well as advisory clients of mine, own some of these listed ETFs. Furthermore, they do not represent a specific investment recommendation for you, they merely show which ETFs from the universe I track are falling within the guidelines specified.
Contact Ulli