ETF/No Load Fund Tracker StatSheet
————————————————————-
https://theetfbully.com/2016/05/weekly-statsheet-for-the-etfno-load-fund-tracker-newsletter-updated-through-05262016/
————————————————————
Market Commentary
STOCKS POST SOLID GAINS FOR THE WEEK; ARE THE BULLS BACK?

[Chart courtesy of MarketWatch.com]
1. Moving the Markets
Markets posted modest gains today, but it was just enough to push the major indexes above water to a weekly gain and snap a 3-week losing streak.
As I mentioned yesterday, the Friday before Memorial Day is notoriously slow and was so today, despite a market-moving announcement from Janet Yellen in Massachusetts.
In her speech, she noted that it is "appropriate" for the Fed to "gradually and cautiously" increase interest rates "in the coming months" if the economy and labor markets continue to show improvement. Her comments fell in line with the lingering rhetoric over the past month that a rate hike is coming, perhaps in early June. That should have been a negative for the indexes but wasn't. Does that mean the bulls are back? It's a possibility, but in the absence of volume supporting such a rally, it may only be a bounce from an oversold position.
Another way to look at it is that the markets have not made a new high within the last year. History suggests that when that happens, the odds are 77% in favor of a bear market. This means you should be not only conservative when setting up new positions but always use my recommended sell stop discipline in case this turns into a bull trap. The indexes are still disconnected from reality as this chart from ZH makes abundantly clear: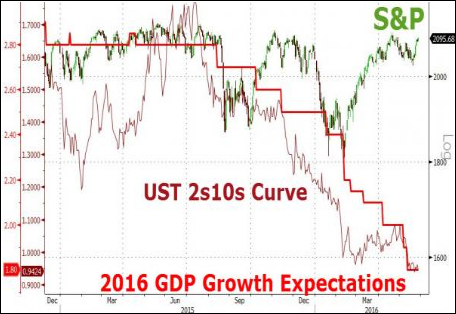 A picture is worth a thousand words!
Next week, we will be looking to some key economic indicators. On Tuesday, we will get the latest reading on the Fed's preferred measure of inflation, the PCE index. On Wednesday, we'll hear the latest update on ISM's Manufacturing index for May. And, on Friday the May jobs report!
2. ETFs in the Spotlight
In case you missed the announcement and description of this section, you can read it here again.
It features 10 broadly diversified ETFs from my HighVolume list as posted every Monday. Furthermore, they are screened for the lowest MaxDD% number meaning they have been showing better resistance to temporary sell offs than all others over the past year.
Here are the 10 candidates:

The above table simply demonstrates the magnitude with which some of the ETFs are fluctuating in regards to their positions above or below their respective individual trend lines (%M/A). A break below, represented by a negative number, shows weakness, while a break above, represented by a positive percentage, shows strength.
For hundreds of ETF/Mutual fund choices, be sure to reference Thursday's StatSheet.
Year to date, here's how the above candidates have fared so far:
Again, the first table above shows the position of the various ETFs in relation to their respective long term trend lines (%M/A), while the second one tracks their trailing sell stops in the "Off High" column. The "Action" column will signal a "Sell" once the -7.5% point has been taken out in the "Off High" column.
3. Trend Tracking Indexes (TTIs)
Our Domestic Trend Tracking Index (TTI) followed the major indexes higher and resides clearly on the bullish side of its trend line. While the International TTI has made great progress in 3 days, I want to see more staying power above the line before issuing a new "BUY" so that we can limit the odds of another whip-saw signal.
Here's how we closed this week:
Domestic TTI: +1.88% (last Friday +0.87%)—Buy signal effective 4/4/2016
International TTI: +1.18% (last Friday -0.91%)—Sell signal effective 5/16/2016
Have a great weekend.
Ulli…
Disclosure: I am obliged to inform you that I, as well as advisory clients of mine, own some of these listed ETFs. Furthermore, they do not represent a specific investment recommendation for you, they merely show which ETFs from the universe I track are falling within the guidelines specified.
————————————————————-
READER Q & A FOR THE WEEK
All Reader Q & A's are listed at our web site!
Check it out at:
https://theetfbully.com/questions-answers/
———————————————————-
WOULD YOU LIKE TO HAVE YOUR INVESTMENTS PROFESSIONALLY MANAGED?
Do you have the time to follow our investment plans yourself? If you are a busy professional who would like to have his portfolio managed using our methodology, please contact me directly or get more details at:
https://theetfbully.com/personal-investment-management/
———————————————————
Back issues of the ETF/No Load Fund Tracker are available on the web at:
https://theetfbully.com/newsletter-archives/
Contact Ulli