ETF/No Load Fund Tracker StatSheet
————————————————————-
THE LINK TO OUR CURRENT ETF/MUTUAL FUND STATSHEET IS:
https://theetfbully.com/2015/03/weekly-statsheet-for-the-etfno-load-fund-tracker-newsletter-updated-through-03122015/
————————————————————
Market Commentary
Friday, March 13, 2015
STUMBLING ON A ROCKY ROAD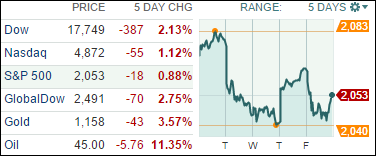 [Chart courtesy of MarketWatch.com]
1. Moving the Markets
Yesterday's great rebound smelled like a dead cat bounce just 24 hours later, as the major indexes hit reverse but managed to cut losses during the past 30 minutes of trading.
This is now the third straight week that the main indexes have slipped, as wild swings in currencies and the dollar combined forces to give the bears the upper hand for the time being. Not helping were a host of facts, such as oil prices nearly slumping 10%, commodity prices slipping and weak economic data souring the mood while investors were wondering if a rate hike by the Fed in this environment is truly a realistic expectation.
Especially, when considering lack of wage growth, a slack in the labor market and a general slowdown in world economies, I am a little perplexed as to what the Fed sees in order to consider a tightening move. I guess we'll have to wait and see until more details become known. I for one would not be surprised to see the rate hike scenario to be postponed.
All of our 10 ETFs in the Spotlight headed south today with SPLV taking the lead at -0.88%, despite yesterday's great move to the upside, while healthcare (XLV) showed the most resistance by only surrendering -0.19%. 5 of them remain positive YTD.
2. ETFs in the Spotlight
In case you missed the announcement and description of this section, you can read it here again.
It features 10 broadly diversified ETFs from my HighVolume list as posted every Monday. Furthermore, they are screened for the lowest MaxDD% number meaning they have been showing better resistance to temporary sell offs than all others over the past year.
Here are the 10 candidates:

The above table simply demonstrates the magnitude with which some of the ETFs are fluctuating in regards to their positions above or below their respective individual trend lines (%M/A). A break below, represented by a negative number, shows weakness, while a break above, represented by a positive percentage, shows strength.
For hundreds of ETF/Mutual fund choices, be sure to reference Thursday's StatSheet.
Year to date, here's how the above candidates have fared so far:
Again, the first table above shows the position of the various ETFs in relation to their respective long term trend lines (%M/A), while the second one tracks their trailing sell stops in the "Off High" column. The "Action" column will signal a "Sell" once the -7.5% point has been taken out in the "Off High" column.
3. Trend Tracking Indexes (TTIs)
Our Trend Tracking Indexes (TTIs) followed the major indexes down during this roller coaster week and, while both of them slipped, the international one took a bigger hit as today's numbers show:
Domestic TTI: +2.47% (last Friday +2.74%)—Buy signal effective 10/22/2014
International TTI: +1.98% (last Friday +2.98%)—Buy signal effective 2/13/2015
Have a nice weekend.
Ulli…
Disclosure: I am obliged to inform you that I, as well as advisory clients of mine, own some of these listed ETFs. Furthermore, they do not represent a specific investment recommendation for you, they merely show which ETFs from the universe I track are falling within the guidelines specified.
————————————————————-
READER Q & A FOR THE WEEK
All Reader Q & A's are listed at our web site!
Check it out at:
http://www.successful-investment.com/q&a.php
Reader Ed:
Q: Ulli: Do you post a sell signal for US ETFs/Funds should it occur during the week, between newsletters?
A: Ed: Whenever a Buy or Sell signal occurs I post it to the blog the same day. It also gets emailed to all subscribers, but I recommend you check the blog when we appear to get close, since email delivery is not always very reliable.
———————————————————-
WOULD YOU LIKE TO HAVE YOUR INVESTMENTS PROFESSIONALLY MANAGED?
Do you have the time to follow our investment plans yourself? If you are a busy professional who would like to have his portfolio managed using our methodology, please contact me directly or get more details at:
https://theetfbully.com/personal-investment-management/
———————————————————
Back issues of the ETF/No Load Fund Tracker are available on the web at:
https://theetfbully.com/newsletter-archives/
Contact Ulli