[Chart courtesy of MarketWatch.com]
1. Moving the Markets
The major indexes got two assists today, which propelled the markets out of the trading range with the S&P 500 making another assault at the 2,000 level after having been stuck below it for the past 1-1/2 weeks.
China's central bank got things started by announcing a boost in its stimulus measures (QE) over the next three months to improve sagging economic growth. Seems like the letters QE was all it took and off to the races we went.
Leading the charge were the energy sector, which came back to life by adding 1.2% along with utilities and healthcare.
Then the WSJ chimed in with a report that the Fed's policy statement, due out tomorrow, may not contain the dreaded words of higher interest rates in the immediate future, but that an actual increase may be postponed until some time late in 2015. Of course, it's nothing but a guessing game, but the markets took it as a positive. We'll find out tomorrow, if this rally has enough muscle to keep the indexes at these levels.
All of our 10 ETFs in the Spotlight joined the party and closed up with 2 of them making new yearly highs.
2. ETFs in the Spotlight
In case you missed the announcement and description of this section, you can read it here again.
It features 10 broadly diversified ETFs from my HighVolume list as posted every Monday. Furthermore, they are screened for the lowest MaxDD% number meaning they have been showing better resistance to temporary sell offs than all others over the past year.
Here are the 10 candidates: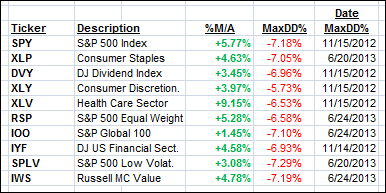 All of them are currently in "buy" mode, meaning their prices are above their respective long term trend lines by the percentage indicated (%M/A).
Year to date, here's how the above candidates have fared so far:
To be clear, the first table above shows the position of the various ETFs in relation to their respective long term trend lines (%M/A), while the second one tracks their trailing sell stops in the "Off High" column. The "Action" column will signal a "Sell" once the -7.5% point is taken out in the "Off High" column.
3. Domestic Trend Tracking Indexes (TTIs)
Our Trend Tracking Indexes (TTIs) reversed and closed higher:
Domestic TTI: +2.39% (last close +2.03%)
International TTI: +1.63% (last close +1.35%)
Disclosure: I am obliged to inform you that I, as well as advisory clients of mine, own some of these listed ETFs. Furthermore, they do not represent a specific investment recommendation for you, they merely show which ETFs from the universe I track are falling within the guidelines specified.
Contact Ulli