ETF/No Load Fund Tracker StatSheet
————————————————————-
THE LINK TO OUR CURRENT ETF/MUTUAL FUND STATSHEET IS:
https://theetfbully.com/2014/08/weekly-statsheet-for-the-etfno-load-fund-tracker-newsletter-updated-through-08072014/
————————————————————
Market Commentary
Friday, August 8, 2014
BULLS BACK ON TRACK TO END FIRST WEEK OF AUGUST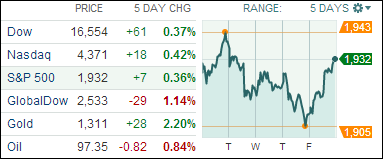 [Chart courtesy of MarketWatch.com]
1. Moving the Markets
U.S. stocks ended higher today and closed out the first week of August on a strong note. This comes as a slight sigh of relief given how many international crises have rattled markets over the past two weeks. All major indexes headed higher, as the weekly chart above shows.
The Labor Department announced today that productivity rose more than expected in the second quarter. This increase is a rebound from the first-quarter report, which was the biggest productivity drop in more than three decades.
So, all signs on the domestic front tend to be indicating continued economic growth here at home. However, a batch of retail corporate earnings announcements coming up soon could be useful to gain a greater perspective on consumer spending in general.
Macy's (M), Wal-Mart (WMT), Home Depot (HD), Nordstroms (JWN) and Estee Lauder (ELAA) should provide an interesting array of spending habits across a wide spectrum or retailers.
Our 10 ETFs in the Spotlight joined today's rally and gained nicely on the day.
2. ETFs in the Spotlight
In case you missed the announcement and description of this section, you can read it here again.
It features 10 broadly diversified ETFs from my HighVolume list as posted every Monday. Furthermore, they are screened for the lowest MaxDD% number meaning they have been showing better resistance to temporary sell offs than all others over the past year.
Here are the 10 candidates: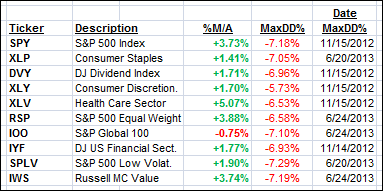 9 of them are in "buy" mode, meaning their prices are above their respective long term trend lines by the percentage indicated (%M/A).
Year to date, here's how the above candidates have fared so far:
To be clear, the first table above shows the position of the various ETFs in relation to their respective long term trend lines (%M/A), while the second one tracks their trailing sell stops in the "Off High" column. The "Action" column will signal a "Sell" once the -7.5% point is taken out in the "Off High" column.
3. Domestic Trend Tracking Indexes (TTIs)
Our Trend Tracking Indexes (TTIs) recovered from Thursday's low point, thanks to today's strong rebound, and ended the week as follows:
Domestic TTI: +1.57% (last Friday +1.23%)
International TTI: +0.17% (last Friday +1.07%)
Have a nice weekend.
Ulli…
Disclosure: I am obliged to inform you that I, as well as advisory clients of mine, own some of these listed ETFs. Furthermore, they do not represent a specific investment recommendation for you, they merely show which ETFs from the universe I track are falling within the guidelines specified.
————————————————————-
READER Q & A FOR THE WEEK
All Reader Q & A's are listed at our web site!
Check it out at:
http://www.successful-investment.com/q&a.php
A note from reader Chris:
Q: Ulli: Have you seen any benefit by an investor creating their own portfolio comprising of a mix of Value ETFs (Large, Mid, Small, Developed, Emerging) and then coupled with Momentum ETFs of similar types. The goal is that both types of Value & Momentum ETFs hopefully won't necessarily correlate with each other depending what the market is doing and spread some of the risk around.
My other question: are Momentum ETFs similar to Growth ETFs regarding how their index formulas/algorithms are determined or are both completely different kinds of ETF strategies?
A: Chris: No, I have not heard about any reader attempting that. "Value" is such a vague definition. When markets rise or fall, "all" equities will follow that trend, the only difference is the degree of change. A good case in point would be yesterday's (7/31/14) price action where SPY dropped 1.94%. Its low volatility cousin, SPLV, which some consider a value play, surrendered 1.87%. That is hardly non-correlation.
To me, it's far more important that you employ an exit strategy that gets you out of the market before a major disaster strikes, such as the bear effects of 2000 and 2008. Trying to distinguish between a Momentum ETF and Growth ETF is nothing but an exercise in futility.
———————————————————-
WOULD YOU LIKE TO HAVE YOUR INVESTMENTS PROFESSIONALLY MANAGED?
Do you have the time to follow our investment plans yourself? If you are a busy professional who would like to have his portfolio managed using our methodology, please contact me directly or get more details at:
https://theetfbully.com/personal-investment-management/
———————————————————
Back issues of the ETF/No Load Fund Tracker are available on the web at:
https://theetfbully.com/newsletter-archives/
Contact Ulli