[Chart courtesy of MarketWatch.com]
1. Moving The Markets
It was a pretty quiet day in the markets today with no index really moving substantially in either direction amidst some uneventful economic news. The Fed, in its Beige Book review of regional conditions, said today the economy in most sectors grew last month despite impediments from the harsh winter weather. However, the Chair of the Federal Reserve did say that the Fed still has much more to do to reach its inflation and unemployment goals.
Biotech stocks on the Nasdaq experienced some nice gains today, with many popping or dropping by more than 20% in a single day. Peregrine (PPHM) was the day's biggest winner by far, up nearly 50% on the announcement that it would be announcing results for its preclinical immuno-oncology drugs at an upcoming conference next week. Today's other winner, Arrowhead Research Corp. (ARWR), saw shares shoot up 25% after two Wall Street analysts switched to a "buy" recommendation in addition as they are excited about the company's hepatitis B drug.
There was not too much exciting happening in international markets today either. U.S. Secretary of State John Kerry met with Russian diplomats today, while Russia held talks with NATO over developments in Ukraine. Key European stocks were a bit lower after strong rallies on Tuesday as the Ukraine-Russian stand-off calmed. The FTSE in London fell 0.71% while Germany's DAX shed 0.49%. In Asia, the Hang Seng closed down 0.34% while Japan's Nikkei was up 1.20%. Chinese authorities kept the growth target for the nation unchanged at 7.5%, despite signs of concerns around reaching it.
Our 10 ETFs in the Spotlight meandered but 3 of them made new highs while 8 of them moved to the plus side YTD.
2. ETFs in the Spotlight
In case you missed the announcement and description of this section, you can read it here again.
It features 10 broadly diversified ETFs from my HighVolume list as posted every Monday. Furthermore, they are screened for the lowest MaxDD% number meaning they have been showing better resistance to temporary sell offs than all others over the past year.
In other words, none of them ever triggered their 7.5% sell stop level during this time period, which included a variety of severe market pullbacks but no move into outright bear market territory.
Here are the 10 candidates: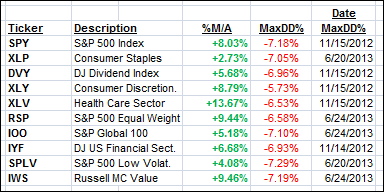 All of them are in "buy" mode meaning their prices are above their respective long term trend lines by the percentage indicated (%M/A).
Year to date, here's how the above candidates have fared so far:
To be clear, the first table above shows the position of the various ETFs in relation to their respective long term trend lines (%M/A), while the second one tracks their trailing sell stops in the "Off High" column.
3. Domestic Trend Tracking Indexes (TTIs)
Our Trend Tracking Indexes (TTIs) changed only slightly from yesterday:
Domestic TTI: +4.69% (last close +4.74%)
International TTI: +6.14% (last close +6.15%)
Disclosure: I am obliged to inform you that I, as well as advisory clients of mine, own some of these listed ETFs. Furthermore, they do not represent a specific investment recommendation for you, they merely show which ETFs from the universe I track are falling within the guidelines specified.
Contact Ulli