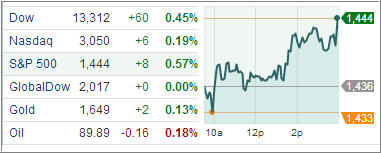 [Chart courtesy of MarketWatch.com]
US equities firmed up Thursday with the S&P 500 rebounding from its worst slump in five weeks, as House Speaker John Boehner expressed optimism about reaching a deal with President Obama.
Sentiment also got a boost after third-quarter economic growth was revised higher at an annualized pace of 3.1 percent, much higher than the 1.3 percent rate recorded in the second quarter. Weekly jobless claims however rose by 17,000 to 361,000 in the latest week.
In other economic news, existing-home sales rose 5.9 percent in November to a seasonally adjusted annual rate of 5.09 million, data released by the National Association of Realtors showed. Another report by the Federal Reserve Bank of Philadelphia showed manufacturing activity in the Philadelphia region rebounded in December.
Republicans in Congress will vote later Thursday on Plan B, a Boehner's version of raising taxes on incomes over $1 million aimed at preventing more than $600 billion in automatic tax hikes and spending cuts from coming into effect next year.
Senate Majority Leader Harry Reid had said in an earlier press conference that the White House would veto the bill since it would bring minimal changes in projected budget deficits. Boehner, talking to reporters in his weekly press conference Thursday, said he was not convinced Plan B would die in the Senate, where Democrats have a majority. But Boehner accused Obama of doing little on spending cuts and entitlement reform after Republicans ceded ground on tax hikes.
Criticizing Obama for not standing up to fellow Democrats in the fight over tax hikes and spending cuts, Boehner said "I did my part, they have done nothing." But he remained "hopeful" of a deal, the speaker added.
The Dow Jones Industrial Average (DJIA) climbed 60 points, helped by a 2.3 percent jump in JP Morgan. Breadth within the 30-stock blue-chip index turned positive with gainers outpacing decliners 25 to five.
The S&P 500 Index (SPX) rose 8 points with financials pacing the gains among its 10 business groups.
Treasury prices edged up, pushing yields down from multi-month highs as efforts to end the budget stalemate that threatens to push the economy into recession produced little result, spurring demand for safer assets.
Meanwhile European stocks finished with small gains after better-than-expected US economic data was offset by concerns on stalled budget negotiations. The Stoxx Europe 600 index finished 0.1 higher at 281.81, up for a third day and hitting its highest level since May 2011.
Bucking the trend, the FTSE 100 index fell 0.1 percent in London, dragged down by Carnival Plc. Shares of the cruise-ship operator sank 6.1 percent after net profit crashed 57 percent in the fourth quarter.
In the ETF space, commodity-linked funds, except energy, mostly retreated. Oil and natural gas fund advanced with the United States Natural Gas Fund (UNG) spiking 3.11 percent after Energy Information Administration data showed supplies contracted by 82 billion cubic feet last week.
Precious metals, particularly silver, tumbled once again on budget talks. The iShares Silver Trust Fund (SLV) tanked 3.69 percent while the SPDR Gold Trust Fund (GLD) slipped 1.21 percent.
Agricultural commodities were also on the decline with soybean futures retreating more than 2 percent after China cancelled a large US order for the second time this week. The Teucrium Soybean Fund slipped 1.52 percent while the Teucrium Corn Fund (CORN) sank 1.29 percent as traders dumped corn futures amid signals of poor export demand for the corp.
Our Trend Tracking Indexes (TTIs) moved higher in tandem with the Domestic TTI now hovering at +1.83% and the International TTI sitting at +8.15%
Special Update: As I am writing this, it appears that the Republican vote on plan B has been cancelled, and the futures have locked limit down. It promises to be an interesting and very volatile day tomorrow as it also futures expiration day.
Contact Ulli