ETF/No Load Fund Tracker StatSheet
————————————————————-
https://theetfbully.com/2016/05/weekly-statsheet-for-the-etfno-load-fund-tracker-newsletter-updated-through-05052016/
————————————————————
Market Commentary
MEDIOCRE FINISH TO A CHOPPY WEEK

[Chart courtesy of MarketWatch.com]
1. Moving the Markets
Stocks were lower for the third week in a row as renewed concerns regarding global growth prospects have put pressure on investor sentiment. Additionally, recent domestic economic data has not been as robust as many had expected. Month-to-month economic readings can be choppy, and it's likely that incoming data will continue to alternate between soft and strong for the time being.
Payroll growth slowed in April as employers added only 160,000 jobs, raising concerns that weak economic growth may finally be crimping the U.S. labor market.
Amazon (AMZN) was back on top today after news was released that the company has doubled the number of air freight cargo planes it is leasing. This, of course, signals meaningful growth is in store for the online retail giant. Atlas Air Worldwide (AAWW) on Thursday said it had signed an agreement with the Seattle internet retailer to operate 20 Boeing 767 for the company for ten years. As a side note, Amazon will acquire up to 20% of the company in the near future.
2. ETFs in the Spotlight
In case you missed the announcement and description of this section, you can read it here again.
It features 10 broadly diversified ETFs from my HighVolume list as posted every Monday. Furthermore, they are screened for the lowest MaxDD% number meaning they have been showing better resistance to temporary sell offs than all others over the past year.
Here are the 10 candidates:

The above table simply demonstrates the magnitude with which some of the ETFs are fluctuating in regards to their positions above or below their respective individual trend lines (%M/A). A break below, represented by a negative number, shows weakness, while a break above, represented by a positive percentage, shows strength.
For hundreds of ETF/Mutual fund choices, be sure to reference Thursday's StatSheet.
Year to date, here's how the above candidates have fared so far: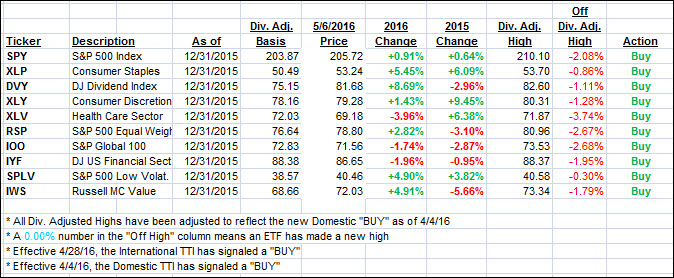 Again, the first table above shows the position of the various ETFs in relation to their respective long term trend lines (%M/A), while the second one tracks their trailing sell stops in the "Off High" column. The "Action" column will signal a "Sell" once the -7.5% point has been taken out in the "Off High" column.
3. Trend Tracking Indexes (TTIs)
Our Domestic Trend Tracking Index (TTI) slipped this week but remains bullish. The International TTI, on the other hand, went negative as I posted before. While we're technically still in Buy mode, I suggest you hold off with any purchases as a whip-saw signal may materialize next week if the upward momentum does not pick up.
Here's how we closed this Friday:
Domestic TTI: +1.11% (last Friday +1.29%)—Buy signal effective 4/4/2016
International TTI: -1.08% (last Friday +0.46%)—Buy signal effective 4/28/2016
Have a great weekend.
Ulli…
Disclosure: I am obliged to inform you that I, as well as advisory clients of mine, own some of these listed ETFs. Furthermore, they do not represent a specific investment recommendation for you, they merely show which ETFs from the universe I track are falling within the guidelines specified.
————————————————————-
READER Q & A FOR THE WEEK
All Reader Q & A's are listed at our web site!
Check it out at:
https://theetfbully.com/questions-answers/
———————————————————-
WOULD YOU LIKE TO HAVE YOUR INVESTMENTS PROFESSIONALLY MANAGED?
Do you have the time to follow our investment plans yourself? If you are a busy professional who would like to have his portfolio managed using our methodology, please contact me directly or get more details at:
https://theetfbully.com/personal-investment-management/
———————————————————
Back issues of the ETF/No Load Fund Tracker are available on the web at:
https://theetfbully.com/newsletter-archives/
Contact Ulli