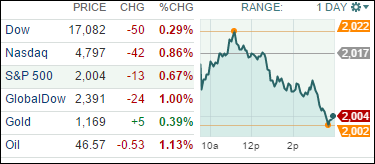 [Chart courtesy of MarketWatch.com]
1. Moving the Markets
The Dow's seven day winning streak was snapped today as stocks sank on fresh data showing China's economy is slowing and investor angst amid the third-quarter earnings season.
The latest news out of China reaffirms fears of a slowdown in the world's second-largest economy and again has everbody wondering whether the slowdown in Asia will dent business activity in the United States and Europe as well. I am not sure why there is any uncertainty; of course it will affect the rest of the world; the question to me is only the magnitude of it.
Still, Wall Street is mainly focused this week on the Q3 earnings season. Investors are split on how the earnings season will impact the stock market, which has rallied more than 7% from its lows back in late August.
After the closing bell, we heard from both JPMorgan Chase (JPM) and Intel (INTC). For both companies, it was a mix of good and bad news when it comes to revenue and earnings. JPMorgan Chase impressed with better than expected earnings, but the company's revenue came in lower than expected, mostly due to a drop in its mortgage banking business. Intel, like JPMorgan, impressed with higher than expected earnings, but their revenues also fell short of expectations.
All of our 10 ETFs in the Spotlight retreated and headed south as the indexes slipped. Leading the pack to the downside was Healthcare (XLV) with -1.25% while the Dividend ETF (DVY) fared the best by only giving back -0.51%.
2. ETFs in the Spotlight
In case you missed the announcement and description of this section, you can read it here again.
It features 10 broadly diversified ETFs from my HighVolume list as posted every Monday. Furthermore, they are screened for the lowest MaxDD% number meaning they have been showing better resistance to temporary sell offs than all others over the past year.
Here are the 10 candidates:

The above table simply demonstrates the magnitude with which some of the ETFs are fluctuating in regards to their positions above or below their respective individual trend lines (%M/A). A break below, represented by a negative number, shows weakness, while a break above, represented by a positive percentage, shows strength.
For hundreds of ETF/Mutual fund choices, be sure to reference Thursday's StatSheet.
Year to date, here's how the above candidates have fared so far:
Again, the first table above shows the position of the various ETFs in relation to their respective long term trend lines (%M/A), while the second one tracks their trailing sell stops in the "Off High" column. The "Action" column will signal a "Sell" once the -7.5% point has been taken out in the "Off High" column.
3. Trend Tracking Indexes (TTIs)
Our Trend Tracking Indexes (TTIs) finally reversed and headed south closing as follows:
Domestic TTI: -0.94% (last close -0.61%)—Sell signal effective 8/24/2015
International TTI: -4.18% (last close -3.33%)—Sell signal effective 8/21/2015
Until the respective trend lines get clearly broken to the upside, we are staying on the sidelines.
Disclosure: I am obliged to inform you that I, as well as advisory clients of mine, own some of these listed ETFs. Furthermore, they do not represent a specific investment recommendation for you, they merely show which ETFs from the universe I track are falling within the guidelines specified.
Contact Ulli