[Chart courtesy of MarketWatch.com]
US equity indexes extended gains into a second session with the S&P 500 index hitting its highest level in two months amid signs of progress in Washington in reaching a deal to avert a hike in taxes and steep spending cuts next year.
Stocks surged higher after House Republicans held a news conference to say they would continue to engage the president while working on an alternative plan that would include tax hikes for Americans making more $1 million annually. Democrats however immediately rejected the proposal as inadequate.
The White House softened its stand on late Monday when President Obama offered to start tax rate increases at $400,000 in earnings instead of $250,000, lowering his tax revenue demand by $200 billion. The revised plan would cut $1.22 trillion in spending while raising $1.2 trillion in taxes in the next decade.
Wall Street continued its trend to fixate on budget negotiations, bypassing economic news. The National Association of Home Builders/Wells Fargo Housing Market Index gained 2.3 percent in December to the highest in six years.
Stocks, already higher throughout the morning, moved even higher in early afternoon trade after Standard & Poor boosted Greece's credit rating by several notches to B-minus from SD, or Selective Default, citing successful completion of its distressed debt buyback last week.
The Dow Jones Industrial Average (DJIA) rallied 116 points, tallying its second triple digit rise for the first time since July while the S&P 500 Index (SPX) rose 16 points to with technology, financial and energy fronting the gains that included all the 10 business sectors.
Treasuries slipped for the second day as flight out of safe assets continued on optimism that US leaders will avoid a budget showdown and a bipartisan deal would emerge before the end of the year to end a stalemate that could tip the economy into recession next year.
In Déjà vu all over again, Zero Hedge features a couple of charts that track in a similar fashion last year's debt ceiling debacle when compared to this year's Fiscal Cliff drama. Here's one of them: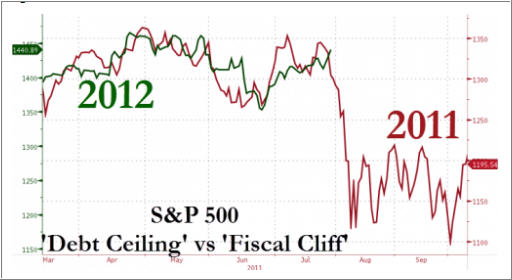 No comment necessary.
Meanwhile, European stocks rose for the first time in four days on Tuesday with banks and resource firms in the lead after US President softened his position on tax hikes and spending cuts, giving rise to optimism that Washington will reach a compromise budget before the year-end.
In the ETF space, funds linked to US equity indexes surged as markets rallied on positive budget talks. The PowerShares QQQ (QQQ) jumped 1.52 percent while the SPDR S&P 500 (SPY) rose 1.15 percent for the day.
Energy futures also rallied even though commodities traded mostly lower today. The United States Natural Gas Fund (UNG) climbed 1.26 percent while the United States Oil Fund (USO) picked up 0.55 percent. The State Street SPDR S&P Oil & Gas Equipment and Services ETF was among the best performers, surging 3.56 percent during the session.
Our Trend Tracking Indexes (TTIs) moved higher as well with the Domestic TTI now reaching a point that is +1.85% above its trend line, while the International TTI has been lifted to +7.37%.
This nearly vertical ascent simply can't last, and I am afraid this move will end in one gigantic Puke-A-Thon. The timing of it is just the unknown, but once a cliff deal is done, we may see some reality starting to set in.
Disclosure: No holdings in ETFs discussed
Contact Ulli