Here's the latest update, which includes the Cutline pricing information after a week of market gains. Not surprising, equity funds showed strong upward momentum over the past few trading days:
RYAZX (small value) moved from -15 to +3
FAIRX (mid-cap blend) moved from -14 to +4
FSAGX (gold) moved from -2 to +14
In the bond area, we saw the following changes:
OIBAX (world bond) moved from +3 to +17
BEGBX (world bond) moved from -1 to +20
Form the above, only bond funds are currently showing positive momentum numbers across the board, but the DD% figures are not enticing at this time.
Let's take a look at the latest cut line table for mutual funds: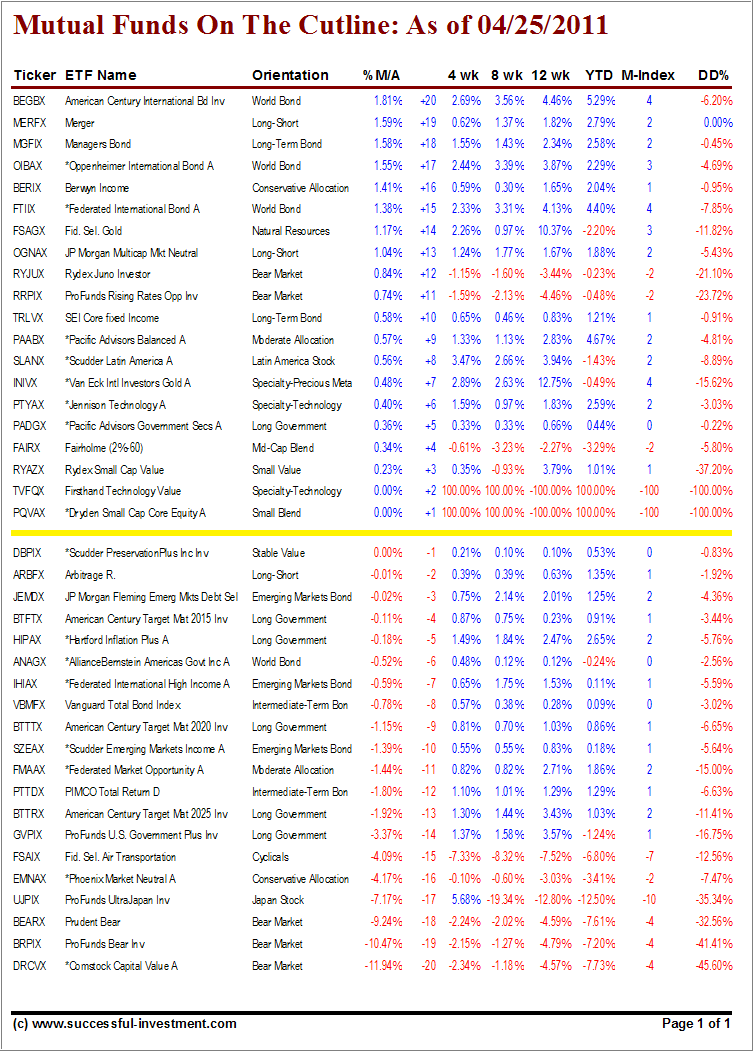 For better viewing and printing, download the PDF: http://www.successful-investment.com/SSTables/MFCutline042511.pdf
Remember, as long as the underlying trend in the market place is upward, as defined by my Trend Tracking Indexes (TTIs) being in positive territory, the bull market still rules.
Jumping in too early on the short side can be rewarding, if you happen to be lucky, but the odds are definitely not in your favor.
Quick reference to recent issues:
4/18/11: https://theetfbully.com/2011/04/mutual-funds-on-the-cutline%E2%80%94updated-as-of-4182011/
4/11/2011: https://theetfbully.com/2011/04/mutual-funds-on-the-cutline%E2%80%94helping-you-to-better-manage-your-401k/
Contact Ulli