[Chart courtesy of MarketWatch.com]
Moving the Markets
Private sector hiring as reported by ADP, which added a seasonally adjusted and bigger–than-expected 253k rise in employment for May, set the tone for the market, as the major indexes climbed steadily above the unchanged line and into record territory.
As has been the case in the recent past, negative news like US construction spending plunging in April by -1.4%, worse than the weakest expectations, along with a drop in US manufacturing to 8-month lows, were ignored as euphoria about a potentially strong jobs report due out tomorrow took center stage.
All three major indexes gained solidly and even SmallCaps, which have been lagging recently, managed to rebound and gained +1.76% on the day, which was their best day since the election. MidCaps joined the party by gaining +1.39%. Also, the trailing Dow finally hit a new record for the first time since March 1st.
Financials recovered from the recent bloodbath with the Regional Banking Index (KRE) recovering +1.78% from its recent losses. YTD, only 2 of the major banks are showing green numbers (BAC, MS), while JPM and GS are stuck below the unchanged line led by GS with a loss of -9.67%. Interest rates were steady, and the US Dollar (UUP) managed to eke out a tiny gain of +0.12%.
ETFs in the Spotlight (updated for 2017)
In case you missed the announcement and description of this section, you can read it here again.
It features 10 broadly diversified and sector ETFs from my HighVolume list as posted every Saturday. Furthermore, they are screened for the lowest MaxDD% number meaning they have been showing better resistance to temporary sell offs than all others over the past year.
The below table simply demonstrates the magnitude with which some of the ETFs are fluctuating in regards to their positions above or below their respective individual trend lines (%M/A). A break below, represented by a negative number, shows weakness, while a break above, represented by a positive percentage, shows strength.
For hundreds of ETF choices, be sure to reference Thursday's StatSheet.
Year to date, here's how the 2017 candidates have fared so far: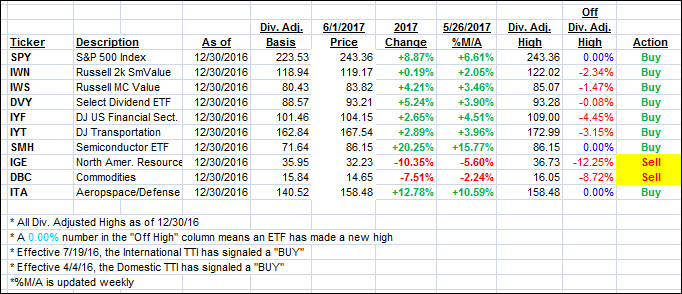 Again, the %M/A column above shows the position of the various ETFs in relation to their respective long term trend lines, while the trailing sell stops are being tracked in the "Off High" column. The "Action" column will signal a "Sell" once the -7.5% point has been taken out in the "Off High" column.
Trend Tracking Indexes (TTIs)
Our Trend Tracking Indexes (TTIs) picked up some speed as euphoria about the ADP report pushed the major indexes into record territory.
Here's how we closed 6/1/2017:
Domestic TTI: +4.03% (last close +3.68%)—Buy signal effective 4/4/2016
International TTI: +8.57% (last close +8.06%)—Buy signal effective 7/19/2016
Disclosure: I am obliged to inform you that I, as well as my advisory clients, own some of the ETFs listed in the above table. Furthermore, they do not represent a specific investment recommendation for you, they merely show which ETFs from the universe I track are falling within the guidelines specified.
Contact Ulli