ETF Tracker StatSheet
————————————————————-
https://theetfbully.com/2016/08/weekly-statsheet-for-the-etf-tracker-newsletter-updated-through-08112016/
————————————————————
Market Commentary
POOR ECONOMIC DATA EQUALS HIGHER STOCK PRICES

[Chart courtesy of MarketWatch.com]
1. Moving the Markets
If you have been listening to the Main Stream Media (MSM) reporting on the major indexes making one new lifetime high after another over the past month, you might feel like you have been left behind if you decided not to participate in this alleged monstrous breakout into record territory.
Well, don't feel bad, since much of the hype was just that. Things look different if you review the actual numbers, such as the fact that the S&P 500 only gained a meager +0.4% in the last 3 weeks and +1% in the past 4 weeks. Not exactly a reason for you to feel like you missed out on the rally of a lifetime.
This week turned out to be among the worst in 18 months for economic data as ZH explained succinctly:
Productivity plunges… Retail Sales disappoints… Consumer's Confidence in their finances lowest since 2014… Weak China data… global bond yields at record lows… US yield curve back near cycle flats… US and Global GDP expectations at cycle lows… BUT best week in oil in 4 months… simultaneous record highs in S&P, Dow, Nasdaq for first time since Dec 31 1999…
Nasdaq is now up 7 weeks in a row – the longest streak since March 2012 – after which it tumbled 13%…
And, US 2016 GDP growth expectations crashed to cycle lows today, as the following chart demonstrates:
But, who cares about real GDP, all that matters is that the S&P hovers in record territory, until—one day—the bubble bursts setting the stage for a pullback to fair market value, which some analysts forecast to be in the 1,400 range.
2. ETFs in the Spotlight
In case you missed the announcement and description of this section, you can read it here again.
It features 10 broadly diversified ETFs from my HighVolume list as posted every Monday. Furthermore, they are screened for the lowest MaxDD% number meaning they have been showing better resistance to temporary sell offs than all others over the past year.
Here are the 10 candidates:

The above table simply demonstrates the magnitude with which some of the ETFs are fluctuating in regards to their positions above or below their respective individual trend lines (%M/A). A break below, represented by a negative number, shows weakness, while a break above, represented by a positive percentage, shows strength.
For hundreds of ETF choices, be sure to reference Thursday's StatSheet.
Year to date, here's how the above candidates have fared so far: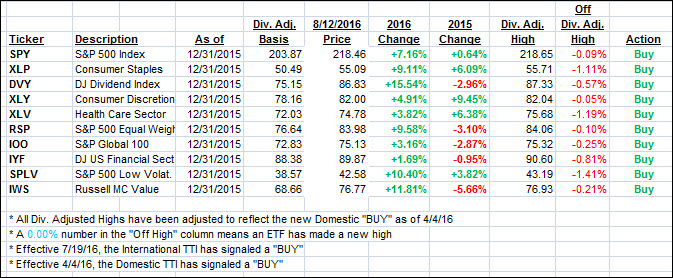 Again, the first table above shows the position of the various ETFs in relation to their respective long term trend lines (%M/A), while the second one tracks their trailing sell stops in the "Off High" column. The "Action" column will signal a "Sell" once the -7.5% point has been taken out in the "Off High" column.
3. Trend Tracking Indexes (TTIs)
Our Trend Tracking Indexes (TTIs) showed a mixed picture with the Domestic one only changing slightly while the International one took a big jump deeper into bullish territory.
Here's how we closed 8/12/2016:
Domestic TTI: +3.11% (last Friday +3.13%)—Buy signal effective 4/4/2016
International TTI: +4.68% (last Friday +3.53%)—Buy signal effective 7/19/2016
Have a great weekend.
Ulli…
Disclosure: I am obliged to inform you that I, as well as my advisory clients, own some of the ETFs listed in the above table. Furthermore, they do not represent a specific investment recommendation for you, they merely show which ETFs from the universe I track are falling within the guidelines specified.
————————————————————-
READER Q & A FOR THE WEEK
All Reader Q & A's are listed at our web site!
Check it out at:
https://theetfbully.com/questions-answers/
———————————————————-
WOULD YOU LIKE TO HAVE YOUR INVESTMENTS PROFESSIONALLY MANAGED?
Do you have the time to follow our investment plans yourself? If you are a busy professional who would like to have his portfolio managed using our methodology, please contact me directly or get more details at:
https://theetfbully.com/personal-investment-management/
———————————————————
Back issues of the ETF/No Load Fund Tracker are available on the web at:
https://theetfbully.com/newsletter-archives/
Contact Ulli