ETF/No Load Fund Tracker StatSheet
————————————————————-
https://theetfbully.com/2016/04/weekly-statsheet-for-the-etfno-load-fund-tracker-newsletter-updated-through-04212016/
————————————————————
Market Commentary
MIXED END TO MIXED WEEK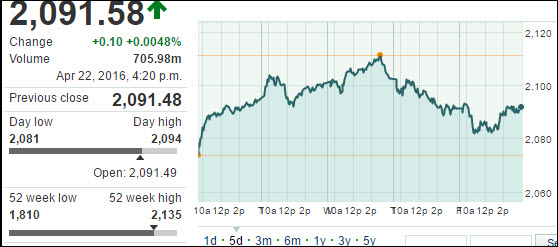 [Chart courtesy of MarketWatch.com]
1. Moving the Markets
U.S. stocks closed the week mixed Friday as earnings misses last night from Microsoft (MSFT) and Google parent Alphabet (GOOG) gave Wall Street's optimism a punch in the face. Before the opening bell though, the Dow got a push from strong earnings report from McDonald's (MCD).
The mediocre finish to the end of the week on Wall Street has some investment pros wondering if the market's strong run from the lows in early February has run its course while worrying about the recurring theme of the past that April cheers could bring May tears.
We heard a solid earnings report from McDonald's (MCD) today. The maker of burgers, fries, and breakfast meals posted an earnings beat and rise in same-store sales of 5.4% versus a year ago, boosted by the success of its all-day breakfast initiative.
Despite the market's two-day relapse, the earnings situation has improved, if you can call it that. With 132 companies in the S&P 500 having reported earnings, the Q1 profit contraction has been decreased to "only" -7.1%, which is better than the nearly -8% estimated drop a few weeks ago. Sure, that should push the major indexes to new highs in a hurry.
Let's see how the next week of earnings reports will impact markets.
2. ETFs in the Spotlight
In case you missed the announcement and description of this section, you can read it here again.
It features 10 broadly diversified ETFs from my HighVolume list as posted every Monday. Furthermore, they are screened for the lowest MaxDD% number meaning they have been showing better resistance to temporary sell offs than all others over the past year.
Here are the 10 candidates:

The above table simply demonstrates the magnitude with which some of the ETFs are fluctuating in regards to their positions above or below their respective individual trend lines (%M/A). A break below, represented by a negative number, shows weakness, while a break above, represented by a positive percentage, shows strength.
For hundreds of ETF/Mutual fund choices, be sure to reference Thursday's StatSheet.
Year to date, here's how the above candidates have fared so far: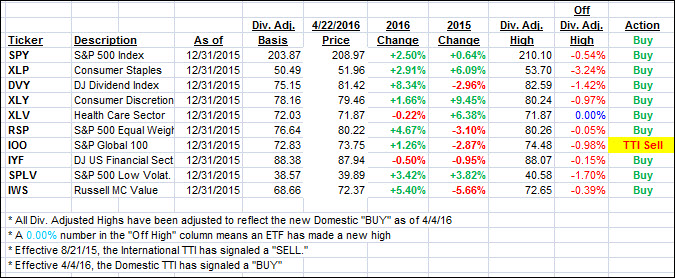 Again, the first table above shows the position of the various ETFs in relation to their respective long term trend lines (%M/A), while the second one tracks their trailing sell stops in the "Off High" column. The "Action" column will signal a "Sell" once the -7.5% point has been taken out in the "Off High" column.
3. Trend Tracking Indexes (TTIs)
Our Domestic Trend Tracking Index (TTI) changed only slightly while the International TTI crossed into bullish territory but not enough yet to generate a new Buy signal as I commented all week.
Here's how we ended up:
Domestic TTI: +1.74% (last Friday +1.80%)—Buy signal effective 4/4/2016
International TTI: +0.88% (last Friday -0.36%)—Sell signal effective 8/21/2015
Have a great weekend.
Ulli…
Disclosure: I am obliged to inform you that I, as well as advisory clients of mine, own some of these listed ETFs. Furthermore, they do not represent a specific investment recommendation for you, they merely show which ETFs from the universe I track are falling within the guidelines specified.
————————————————————-
READER Q & A FOR THE WEEK
All Reader Q & A's are listed at our web site!
Check it out at:
https://theetfbully.com/questions-answers/
———————————————————-
WOULD YOU LIKE TO HAVE YOUR INVESTMENTS PROFESSIONALLY MANAGED?
Do you have the time to follow our investment plans yourself? If you are a busy professional who would like to have his portfolio managed using our methodology, please contact me directly or get more details at:
https://theetfbully.com/personal-investment-management/
———————————————————
Back issues of the ETF/No Load Fund Tracker are available on the web at:
https://theetfbully.com/newsletter-archives/
Contact Ulli