ETF/No Load Fund Tracker StatSheet
————————————————————-
THE LINK TO OUR CURRENT ETF/MUTUAL FUND STATSHEET IS:
https://theetfbully.com/2016/01/weekly-statsheet-for-the-etfno-load-fund-tracker-newsletter-updated-through-01282016/
————————————————————
Market Commentary
A BITTER SWEET END TO A GRIM JANUARY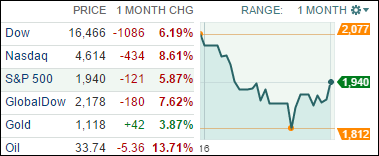 [Chart courtesy of MarketWatch.com]
1. Moving the Markets
The Dow, posting its worst January since 2009, ended up nearly 400 points to cap a turbulent month on an upbeat note after a surprise interest rate cut by the Bank of Japan and despite a report showing weak fourth-quarter U.S. growth.
It appears that the Dow is still in correction mode, or down more than 10% from its peak. A weak January typically does not bode well for stocks for the remainder of the year. As the saying on Wall Street often says: "As January goes, so goes the market" for the rest of the year.
The big and unexpected headline Friday was a move by Japan's central bank to push interest rates into negative territory (NIRP) in an effort to boost economic activity, combat dangerously low inflation and spur more bank lending. The Bank of Japan followed the policy path of the European Central Bank, in pushing the rate for deposits down to -0.1% for current financial firms that have cash deposited at the BoJ. A negative interest rate means depositors pay the bank to keep their money at the bank.
Of course, as we all know by now pushing rates to zero or even negative has done nothing to spur organic economic growth in the past, but it has done everything to support the financial markets. I suspect that today's euphoric reaction will give way to reality in the near future and this day may very well be remembered as one to get out of the markets before the bear rears its ugly head again.
All of our 10 ETFs in the Spotlight participated in today's buying panic and closed higher. The top dog of the day was the Financials (IYF) with +3.09%, while Consumer Staples (XLY) lagged with +1.09%.
2. ETFs in the Spotlight
In case you missed the announcement and description of this section, you can read it here again.
It features 10 broadly diversified ETFs from my HighVolume list as posted every Monday. Furthermore, they are screened for the lowest MaxDD% number meaning they have been showing better resistance to temporary sell offs than all others over the past year.
Here are the 10 candidates:

The above table simply demonstrates the magnitude with which some of the ETFs are fluctuating in regards to their positions above or below their respective individual trend lines (%M/A). A break below, represented by a negative number, shows weakness, while a break above, represented by a positive percentage, shows strength.
For hundreds of ETF/Mutual fund choices, be sure to reference Thursday's StatSheet.
Year to date, here's how the above candidates have fared so far:
Again, the first table above shows the position of the various ETFs in relation to their respective long term trend lines (%M/A), while the second one tracks their trailing sell stops in the "Off High" column. The "Action" column will signal a "Sell" once the -7.5% point has been taken out in the "Off High" column.
3. Trend Tracking Indexes (TTIs)
Our Domestic Trend Tracking Index (TTI) improved as today's euphoric rally reduced some of the losses the major indexes sustained during the January debacle.
Here's how we ended this week:
Domestic TTI: -2.03% (last Friday -2.78%)—Sell signal effective 11/13/2015
International TTI: -8.86% (last Friday -10.16%)—Sell signal effective 8/21/2015
Have a great weekend.
Ulli…
Disclosure: I am obliged to inform you that I, as well as advisory clients of mine, own some of these listed ETFs. Furthermore, they do not represent a specific investment recommendation for you, they merely show which ETFs from the universe I track are falling within the guidelines specified.
————————————————————-
READER Q & A FOR THE WEEK
All Reader Q & A's are listed at our web site!
Check it out at:
https://theetfbully.com/questions-answers/
———————————————————-
WOULD YOU LIKE TO HAVE YOUR INVESTMENTS PROFESSIONALLY MANAGED?
Do you have the time to follow our investment plans yourself? If you are a busy professional who would like to have his portfolio managed using our methodology, please contact me directly or get more details at:
https://theetfbully.com/personal-investment-management/
———————————————————
Back issues of the ETF/No Load Fund Tracker are available on the web at:
https://theetfbully.com/newsletter-archives/
Contact Ulli