ETF/No Load Fund Tracker StatSheet
————————————————————-
THE LINK TO OUR CURRENT ETF/MUTUAL FUND STATSHEET IS:
https://theetfbully.com/2015/11/weekly-statsheet-for-the-etfno-load-fund-tracker-newsletter-updated-through-11252015/
————————————————————
Market Commentary
A NON-EVENTFUL WEEK WITH A VOLATILE ONE AHEAD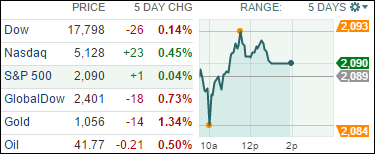 [Chart courtesy of MarketWatch.com]
1. Moving the Markets
It was a slow week with no market moving events as the Thanksgiving Day and the short session on Friday combined to reduce momentum in either direction causing the S&P 500 a 1 point gain since last Friday.
However, next week could be a different story. There may be some fallout from the Chinese stock market, which took a beating at the tune of -5.5% in one day as authorities cracked down on big brokers and pretty much anyone that dared to short the market.
Next Thursday, the ECB is having another powwow with investors hoping for more monetary easing to keep the stock markets hopping. On Friday, the OPECers will decide as to whether they will hold the supply levels firm or make adjustments to control the current weak prices.
Then we're on to the monthly jobs report, which may be one of the most eagerly awaited pieces of economic news as it is the last one before the Fed meets to decide the future fate of interest rates. It could be a volatile week and may very well push our Domestic Trend Tracking Index (TTI) out of its tight trading range either further back into bearish territory or may with renewed vigor generate a new "Buy" signal.
8 of our 10 ETFs in the Spotlight closed up today to end this Holiday shortened week about unchanged. Leading the group were the Consumer Staples (XLP) with +0.38%; on the downside, Consumer Discretionaries (XLY) gave back the most by losing -0.37%.
2. ETFs in the Spotlight
In case you missed the announcement and description of this section, you can read it here again.
It features 10 broadly diversified ETFs from my HighVolume list as posted every Monday. Furthermore, they are screened for the lowest MaxDD% number meaning they have been showing better resistance to temporary sell offs than all others over the past year.
Here are the 10 candidates:

The above table simply demonstrates the magnitude with which some of the ETFs are fluctuating in regards to their positions above or below their respective individual trend lines (%M/A). A break below, represented by a negative number, shows weakness, while a break above, represented by a positive percentage, shows strength.
For hundreds of ETF/Mutual fund choices, be sure to reference Thursday's StatSheet.
Year to date, here's how the above candidates have fared so far:
Again, the first table above shows the position of the various ETFs in relation to their respective long term trend lines (%M/A), while the second one tracks their trailing sell stops in the "Off High" column. The "Action" column will signal a "Sell" once the -7.5% point has been taken out in the "Off High" column.
3. Trend Tracking Indexes (TTIs)
Our Domestic Trend Tracking Index (TTI) improved a bit during this Holiday shortened week, but the piercing of the trend line has not been strong enough yet to issue a new "Buy" signal. However, as posted above, we may see some fireworks next week, in either direction, and may get a better picture by this coming Friday as to in which direction the markets will move next.
This week, we closed as follows:
Domestic TTI: +0.75% (last Friday +0.42%)—Sell signal effective 11/13/2015
International TTI: -2.89% (last Friday -3.12%)—Sell signal effective 8/21/2015
Have a great weekend.
Ulli…
Disclosure: I am obliged to inform you that I, as well as advisory clients of mine, own some of these listed ETFs. Furthermore, they do not represent a specific investment recommendation for you, they merely show which ETFs from the universe I track are falling within the guidelines specified.
————————————————————-
READER Q & A FOR THE WEEK
All Reader Q & A's are listed at our web site!
Check it out at:
https://theetfbully.com/questions-answers/
———————————————————-
WOULD YOU LIKE TO HAVE YOUR INVESTMENTS PROFESSIONALLY MANAGED?
Do you have the time to follow our investment plans yourself? If you are a busy professional who would like to have his portfolio managed using our methodology, please contact me directly or get more details at:
https://theetfbully.com/personal-investment-management/
———————————————————
Back issues of the ETF/No Load Fund Tracker are available on the web at:
https://theetfbully.com/newsletter-archives/
Contact Ulli