ETF/No Load Fund Tracker StatSheet
————————————————————-
THE LINK TO OUR CURRENT ETF/MUTUAL FUND STATSHEET IS:
https://theetfbully.com/2015/04/weekly-statsheet-for-the-etfno-load-fund-tracker-newsletter-updated-through-04232015/
————————————————————
Market Commentary
STOCKS END VOLATILE WEEK ON POSITIVE NOTE; APPLE WATCH, CAR INTEGRATION APPS NEW WAVE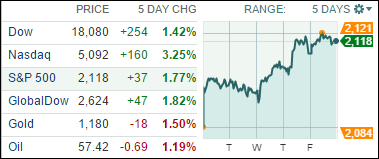 [Chart courtesy of MarketWatch.com]
1. Moving the Markets
Stocks rose Friday as the Nasdaq and S&P 500 closed at new record highs in a historic week that saw the Nasdaq return from the dotcom bubble that burst 15 long years ago. The Nasdaq was powered by strong profit results from tech giants Microsoft (MSFT) and Amazon.com (AMZN). Amazon surged 14% after it revealed details of its cloud computing service. Thereafter, Microsoft jumped 10.5% as it easily beat Wall Street estimates.
Following up from yesterday in M&A news, Comcast Corp. (CCV) said Friday that the company is officially ending its $45.2 billion merger agreement with Time Warner Cable (TWC) scrapping a giant deal that ran into stiff opposition from consumers and a likely veto from federal regulators. If the deal had been completed, Comcast planned to move 3.9 million of its TV customers to Charter Communications.
Well, we've all been following the roll-out of the Apple watch. So, what will the Apple watch mean for auto manufacturers that are always looking to incorporate the latest of technologies into their automobiles? BMW and Porsche are in the forefront of what is likely to be a wave of automakers rolling out their own smart-watch applications, as they try to move toward having consumers view their cars as extensions of their digital lives. BMW divulged details of its Apple Watch app today, which will work with its two plug-in cars, the i3 and the i8. Across the yard, Porsche says its Apple Watch app will allow drivers to remotely control many functions right from their wrists via Porsche Car Connect. Drivers will know whether their windows, doors, trunk lid and sunroof are closed, among other features.
Earnings season continues next week, so let's look forward to another week of interesting trading activity!
6 of our 10 ETFs in the Spotlight ended up higher today as XLY (consumer discretionaries) took the lead with a 1.36% gain. On the downside, XLV (healthcare) gave back some of this year's healthy gains by losing 0.32%.
2. ETFs in the Spotlight
In case you missed the announcement and description of this section, you can read it here again.
It features 10 broadly diversified ETFs from my HighVolume list as posted every Monday. Furthermore, they are screened for the lowest MaxDD% number meaning they have been showing better resistance to temporary sell offs than all others over the past year.
Here are the 10 candidates:

The above table simply demonstrates the magnitude with which some of the ETFs are fluctuating in regards to their positions above or below their respective individual trend lines (%M/A). A break below, represented by a negative number, shows weakness, while a break above, represented by a positive percentage, shows strength.
For hundreds of ETF/Mutual fund choices, be sure to reference Thursday's StatSheet.
Year to date, here's how the above candidates have fared so far:
Again, the first table above shows the position of the various ETFs in relation to their respective long term trend lines (%M/A), while the second one tracks their trailing sell stops in the "Off High" column. The "Action" column will signal a "Sell" once the -7.5% point has been taken out in the "Off High" column.
3. Trend Tracking Indexes (TTIs)
Our Trend Tracking Indexes (TTIs) joined the upward momentum and closed deeper on the bullish side of their respective trend lines.
Here's how we ended this week:
Domestic TTI: +3.58% (last Friday +2.88%)—Buy signal effective 10/22/2014
International TTI: +5.54% (last Friday +4.30%)—Buy signal effective 2/13/2015
Have a nice weekend.
Ulli…
Disclosure: I am obliged to inform you that I, as well as advisory clients of mine, own some of these listed ETFs. Furthermore, they do not represent a specific investment recommendation for you, they merely show which ETFs from the universe I track are falling within the guidelines specified.
————————————————————-
READER Q & A FOR THE WEEK
All Reader Q & A's are listed at our web site!
Check it out at:
http://www.successful-investment.com/q&a.php
Reader Norman:
Q: Ulli: Since XLV has been a top performing index fund for many years, why not consider CURE?
A: Norman: The time to use a 3X leveraged ETF like CURE would have been at the beginning of the cycle and not this far into it. However, if your risk tolerance allows such leverage, then by all means go for it. I prefer the slow and steady approach, because it is more suited to trend tracking as it minimizes potential whip-saw signals.
———————————————————-
WOULD YOU LIKE TO HAVE YOUR INVESTMENTS PROFESSIONALLY MANAGED?
Do you have the time to follow our investment plans yourself? If you are a busy professional who would like to have his portfolio managed using our methodology, please contact me directly or get more details at:
https://theetfbully.com/personal-investment-management/
———————————————————
Back issues of the ETF/No Load Fund Tracker are available on the web at:
https://theetfbully.com/newsletter-archives/
Contact Ulli