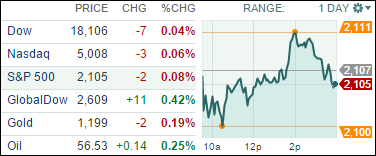 [Chart courtesy of MarketWatch.com]
1. Moving the Markets
Stocks fell in late trading and closed slightly lower as the rebound in oil prices continued and investors assessed another batch of corporate earnings reports.
It was a great day for IPOs. Shares of four companies all rose on their first day of trading. Online craft company Etsy (ETSY) rose 88% to $30 a share after being priced at $16 a share late Wednesday. Party supplier Party City (PRTY) gained 22% to $20.70 and high-speed trading company Virtu Financial (VIRT) jumped 17% to $22.18. Lastly, biotech company KemPharm (KMPH) rose 1.8% to $11 a share.
In earnings news, there were mixed results from financial institutions. Citigroup (C) said earnings jumped to $1.52 per share, speeding past the expected $1.39 per share. Shares climbed 1.5%. Blackstone (BX) shares rose 0.3% after the asset management giant reported its first quarterly earnings nearly doubled. And in healthcare, UnitedHealth (UNH) shares climbed 3.7% as its earnings beat Wall Street estimates and raised its outlook.
And in international news, China's main stock market rebounded from losses yesterday, when China's economy posted its worst quarterly growth in six years. The 7% expansion in the January-March period was the weakest since the global financial crisis of 2007. You may not know that Beijing has cut interest rates twice and rolled out targeted stimulus measures following signs that the downturn has been sharper than expected and investors are likely expecting more such boosting measures to come.
5 of our 10 ETFs in the Spotlight closed higher with XLP taking top billing with a gain of 0.36%, while on the downside, DVY sported a small loss of 0.35%.
2. ETFs in the Spotlight
In case you missed the announcement and description of this section, you can read it here again.
It features 10 broadly diversified ETFs from my HighVolume list as posted every Monday. Furthermore, they are screened for the lowest MaxDD% number meaning they have been showing better resistance to temporary sell offs than all others over the past year.
Here are the 10 candidates:

The above table simply demonstrates the magnitude with which some of the ETFs are fluctuating in regards to their positions above or below their respective individual trend lines (%M/A). A break below, represented by a negative number, shows weakness, while a break above, represented by a positive percentage, shows strength.
For hundreds of ETF/Mutual fund choices, be sure to reference Thursday's StatSheet.
Year to date, here's how the above candidates have fared so far:

Again, the first table above shows the position of the various ETFs in relation to their respective long term trend lines (%M/A), while the second one tracks their trailing sell stops in the "Off High" column. The "Action" column will signal a "Sell" once the -7.5% point has been taken out in the "Off High" column.
3. Trend Tracking Indexes (TTIs)
Our Trend Tracking Indexes (TTIs) inched up a tad, as the market went predominantly sideways in seesaw action.
Here's how this day ended:
Domestic TTI: +3.66% (last close +3.56%)—Buy signal effective 10/22/2014
International TTI: +5.43% (last close +5.31%)—Buy signal effective 2/13/2015
Disclosure: I am obliged to inform you that I, as well as advisory clients of mine, own some of these listed ETFs. Furthermore, they do not represent a specific investment recommendation for you, they merely show which ETFs from the universe I track are falling within the guidelines specified.
Contact Ulli