ETF/No Load Fund Tracker Newsletter For December 19, 2014
ETF/No Load Fund Tracker StatSheet
————————————————————-
THE LINK TO OUR CURRENT ETF/MUTUAL FUND STATSHEET IS:
https://theetfbully.com/2014/12/weekly-statsheet-for-the-etfno-load-fund-tracker-newsletter-updated-through-12182014/
————————————————————
Market Commentary
Friday, December 19, 2014
MARKETS IN RALLY MODE; EARLY DECEMBER LOSSES ARE RECOUPED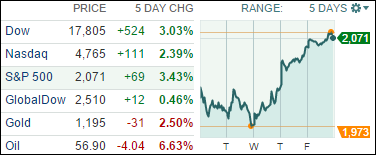 [Chart courtesy of MarketWatch.com]
1. Moving the Markets
One look at the above 5-day chart tells the story. A sloppy beginning was followed by a strong rebound as the major indexes attempted to take out their old highs but fell short. Nevertheless, it was a turbulent but successful week as the Russian ruble collapsed and oil prices fluctuated wildly while trending lower.
As has been the case in the past, the rally was not based on changing fundamentals or an improving economy but merely jawboning by the Fed as the use of words like "patient" and "methodical" in regards to future interest rate hikes were designed to soothe investors' nerves. It worked and equities occupied a world of their own also supported by some rumors that oil prices may have found a bottom and are likely to rise from here. I'll believe it when I see it.
It also remains to be seen if this freshly hyped upside momentum can be sustained or if this entire move turns out to be one gigantic dead cat bounce. In the meantime, we will enjoy this market recovery as long as it lasts.
Most of our 10 ETFs in the Spotlight joined the rally with 3 of them making new highs as table 3 below shows.
2. ETFs in the Spotlight
In case you missed the announcement and description of this section, you can read it here again.
It features 10 broadly diversified ETFs from my HighVolume list as posted every Monday. Furthermore, they are screened for the lowest MaxDD% number meaning they have been showing better resistance to temporary sell offs than all others over the past year.
Here are the 10 candidates: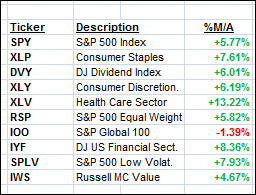 The above table simply demonstrates the magnitude with which some of the ETFs are fluctuating in regards to their positions above or below their respective individual trend lines (%M/A). A break below, represented by a negative number, shows weakness, while a break above, represented by a positive percentage, shows strength.
Year to date, here's how the above candidates have fared so far:
Again, the first table above shows the position of the various ETFs in relation to their respective long term trend lines (%M/A), while the second one tracks their trailing sell stops in the "Off High" column. The "Action" column will signal a "Sell" once the -7.5% point has been taken out in the "Off High" column.
3. Trend Tracking Indexes (TTIs)
Our Trend Tracking Indexes (TTIs) improved this week with the Domestic one now firmly entrenched on the bullish side of its trend line. Internationally, we are still stuck on the bear side, but the index is threatening to break through to the upside again.
Here's how we ended this wild week:
Domestic TTI: +3.21% (last Friday +1.82%)—Buy signal since 10/22/2014
International TTI: -0.20% (last Friday -1.60%)—New Sell signal effective 12/15/14
Have a nice weekend.
Ulli…
Disclosure: I am obliged to inform you that I, as well as advisory clients of mine, own some of these listed ETFs. Furthermore, they do not represent a specific investment recommendation for you, they merely show which ETFs from the universe I track are falling within the guidelines specified.
————————————————————-
READER Q & A FOR THE WEEK
All Reader Q & A's are listed at our web site!
Check it out at:
http://www.successful-investment.com/q&a.php
Reader Mel:
Q: Ulli: First, thank you for all you do, and thank you for making your analyses, obviously obtained at great cost and effort by you, available to all of us free of charge. You have helped me greatly over the years (since 2009) that I've been following you.
But, with the Domestic TTI approaching sell territory, I am concerned about another whipsaw, as I am sure you are too. Is the move since mid-October a dead-cat bounce, or is this decline another bearish feint in a long-term bull market?
Jack Schannep, whom I've been following for the past few months, is rated by Hulbert as one of the very best timers. He asks in his Nov. 29 letter, "Did the recent market weakness 'trick' anyone you know?" (meaning the October drop). Well, it did trick me, and I recall that he flashed a warning but his methodology avoided a sell signal at the last minute. It's a quite complicated method based partly on Dow Theory, but a lot goes into it, and I want to ask if you are aware of it, and if you have any comments that you could share with us without revealing the proprietary aspects of your own TTI approach. He goes into a lot of detail about his method, laying out each decision in a step-by-step fashion, so it would be easy for you to evaluate it, although you would have to be a subscriber.
Thank you for all you do, and thanks in advance for any answer you can offer to my question.
A: Mel: Sure, another whip-saw is always a possibility. I recall that during extreme volatile times in the market place over the past 25 years, I have seen a whip-saw signal more often than not prior to the onset of a severe bear market.
I look at the exit strategy as my insurance policy. Personally, I have insurance on my house, my car, my health not because I expect it to be used but more so to be covered in case a major disaster strikes. I apply that same theme to my investments. I know that at times whip-saw signals occur, and I have learned to simply accept them for what they are. Trying to apply a different rule based on the personal interpretation that this sell-off may be different can backfire big time, as no one can ever be sure whether the bear is about to strike and wipe out years of portfolio accumulation.
I like to keep the strategy of exiting and entering the markets as simple as possible since that very approach has served me well in avoiding the brunt of all of the severe market downturns we've seen over the past 25 years.
———————————————————-
WOULD YOU LIKE TO HAVE YOUR INVESTMENTS PROFESSIONALLY MANAGED?
Do you have the time to follow our investment plans yourself? If you are a busy professional who would like to have his portfolio managed using our methodology, please contact me directly or get more details at:
https://theetfbully.com/personal-investment-management/
———————————————————
Back issues of the ETF/No Load Fund Tracker are available on the web at:
https://theetfbully.com/newsletter-archives/
Contact Ulli