ETF/No Load Fund Tracker Newsletter For September 19, 2014
ETF/No Load Fund Tracker StatSheet
————————————————————-
THE LINK TO OUR CURRENT ETF/MUTUAL FUND STATSHEET IS:
https://theetfbully.com/2014/09/weekly-statsheet-for-the-etfno-load-fund-tracker-newsletter-updated-through-09182014/
————————————————————
Market Commentary
Friday, September 19, 2014
DOW RIDES HIGH ON ALIBABA IPO
[Chart courtesy of MarketWatch.com]
1. Moving the Markets
Stocks finished higher on the week, led by a jump in telecom stocks. The S&P 500 rose 1.23% and the Dow gained 1.35%.
We heard a lot of news about Alibaba (BABA) today. Shares traded freely for the first time today as the stock soared as high 38% at one point. The Alibaba IPO is now officially the largest IPO in history. At its closing share price Friday, Alibaba now has a market value of $231 billion, which exceeds the combined market capitalizations of Amazon (AMZN) and eBay (EBAY).
Investors were also buoyed by Scottish voters' rejection of an independence referendum, adding to the upward momentum created by the Fed's announcement early this week that interest rates will not rise for a considerable time.
And lastly, Apple (AAPL) initiated sales of the iPhone 6 and 6+ today, however, shares still ended down about 0.8%.
2 of our 10 ETFs in the Spotlight gained but no new highs were made today.
2. ETFs in the Spotlight
In case you missed the announcement and description of this section, you can read it here again.
It features 10 broadly diversified ETFs from my HighVolume list as posted every Monday. Furthermore, they are screened for the lowest MaxDD% number meaning they have been showing better resistance to temporary sell offs than all others over the past year.
Here are the 10 candidates: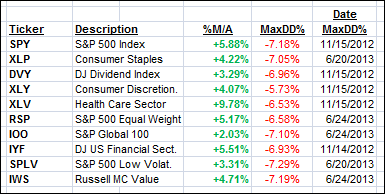 All of them are currently in "buy" mode, meaning their prices are above their respective long term trend lines by the percentage indicated (%M/A).
Year to date, here's how the above candidates have fared so far:
To be clear, the first table above shows the position of the various ETFs in relation to their respective long term trend lines (%M/A), while the second one tracks their trailing sell stops in the "Off High" column. The "Action" column will signal a "Sell" once the -7.5% point is taken out in the "Off High" column.
3. Domestic Trend Tracking Indexes (TTIs)
Our Trend Tracking Indexes (TTIs) recovered this week and managed to edge up from last Friday's close:
Domestic TTI: +2.37% (last Friday +2.14%)
International TTI: +1.66% (last Friday +1.60%)
Have a nice weekend.
Ulli…
Disclosure: I am obliged to inform you that I, as well as advisory clients of mine, own some of these listed ETFs. Furthermore, they do not represent a specific investment recommendation for you, they merely show which ETFs from the universe I track are falling within the guidelines specified.
————————————————————-
READER Q & A FOR THE WEEK
All Reader Q & A's are listed at our web site!
Check it out at:
http://www.successful-investment.com/q&a.php
Reader Ray:
Q: Ulli: I am a relatively new subscriber to your excellent newsletter. I understand your buy, hold and sell strategies on the overall market.
However, I need help on your criteria in selecting the individual ETF/mutual fund buys showing strong upward momentum. Do you just pick say from the top 10 of the M-Index list? Do you rotate from funds that drop in and out of the top 10 list or do you hold your original purchase until it hits the sell stop?
A: Ray: There are many ways as to use the tables in the StatSheet. The more conservative one, which I recommend at these elevated market levels, is to make your selections from the 10 ETFs in the Spotlight, which are featured as part of the daily market commentary.
The idea here is to avoid unnecessary whip-saw signals caused by ETFs that are too volatile, and try to stay with the long-term trend until our trailing sell stops and/or trend line crossings signal a move to the sidelines.
———————————————————-
WOULD YOU LIKE TO HAVE YOUR INVESTMENTS PROFESSIONALLY MANAGED?
Do you have the time to follow our investment plans yourself? If you are a busy professional who would like to have his portfolio managed using our methodology, please contact me directly or get more details at:
https://theetfbully.com/personal-investment-management/
———————————————————
Back issues of the ETF/No Load Fund Tracker are available on the web at:
https://theetfbully.com/newsletter-archives/
Contact Ulli