[Chart courtesy of MarketWatch.com]
1. Moving the Markets
Stocks dropped early on, but were able to cut losses and end mostly positive by the end of the day. The Dow gained 0.1%, the S&P 500 index rose a fractional 0.03%, and the Nasdaq lost 0.1% on the day. Most of the headlines today centered on M&A deals.
The dollar store titans were back in M&A news today. Shares of both Dollar Tree (DLTR) and Family Dollar (FDO) rose after Dollar Tree announced it is buying its rival for $8.5 billion. Family Dollar surged 24.9% to end the day at $75.74 and Dollar Tree ended up 1.2% to $54.87. It seems the dollar deal market is still in full swing and that market demand remains high.
Also, we heard today that real estate website Zillow (Z) said it is buying Trulia (TRLA) for $3.5 billion in stock. Trulia shot up 15.4% to $65.04 and Zillow gained 0.9% to $160.32.
Upcoming in economic news this week, the government will release its first estimate of second-quarter GDP product on Wednesday and the July employment report on Friday.
Of our 10 ETFs in the Spotlight 1 slipped today and 9 gained. No new highs were made.
2. ETFs in the Spotlight
In case you missed the announcement and description of this section, you can read it here again.
It features 10 broadly diversified ETFs from my HighVolume list as posted every Monday. Furthermore, they are screened for the lowest MaxDD% number meaning they have been showing better resistance to temporary sell offs than all others over the past year.
Here are the 10 candidates: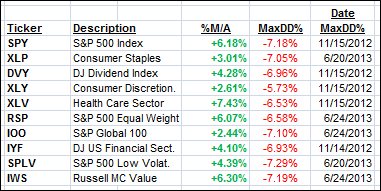 All of them are in "buy" mode, meaning their prices are above their respective long term trend lines by the percentage indicated (%M/A).
Year to date, here's how the above candidates have fared so far:

To be clear, the first table above shows the position of the various ETFs in relation to their respective long term trend lines (%M/A), while the second one tracks their trailing sell stops in the "Off High" column. The "Action" column will signal a "Sell" once the -7.5% point is taken out in the "Off High" column.
3. Domestic Trend Tracking Indexes (TTIs)
Our Trend Tracking Indexes (TTIs) retreated as the markets trended without clear direction:
Domestic TTI: +2.60% (last close +2.72%)
International TTI: +2.87% (last close +3.03%)
Disclosure: I am obliged to inform you that I, as well as advisory clients of mine, own some of these listed ETFs. Furthermore, they do not represent a specific investment recommendation for you, they merely show which ETFs from the universe I track are falling within the guidelines specified.
Contact Ulli