[Chart courtesy of MarketWatch.com]
1. Moving the Markets
Well, the GDP numbers came in today and it was all good news. Prior to the opening bell, the government reported that the economy grew at a robust 4% annual pace in the April-June period, which smashed economists' estimates of 3% growth. This was a sharp rebound from a 2.1% contraction in the 'snowy' first quarter. Stocks initially rallied but the gains quickly faded. The S&P 500 eeked out a 0.01% gain, the Dow lost 0.19%, while the Nasdaq gained 0.46% on hearty Twitter earnings.
Twitter (TWTR) gained more than 20% after reporting strong user growth and earnings that bested Wall Street estimates.
News just came in that Yelp (YELP) jumped up 8.81% in after-hours trading when it reported a Q2 profit of $2.7 million. Wall Street had forecasted the company would report a loss. Another big winner today was Allstate (ALL), which reported an impressive Q2 profit of $645 million, up from $434 million a year ago. The stock gained 2%.
Let's stay tuned for more corporate earnings announcements to come this week!
Of our 10 ETFs in the Spotlight, 4 gained on the the day and one new high was made.
2. ETFs in the Spotlight
In case you missed the announcement and description of this section, you can read it here again.
It features 10 broadly diversified ETFs from my HighVolume list as posted every Monday. Furthermore, they are screened for the lowest MaxDD% number meaning they have been showing better resistance to temporary sell offs than all others over the past year.
Here are the 10 candidates: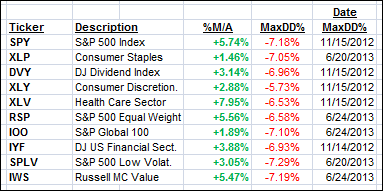 All of them are in "buy" mode, meaning their prices are above their respective long term trend lines by the percentage indicated (%M/A).
Year to date, here's how the above candidates have fared so far:
To be clear, the first table above shows the position of the various ETFs in relation to their respective long term trend lines (%M/A), while the second one tracks their trailing sell stops in the "Off High" column. The "Action" column will signal a "Sell" once the -7.5% point is taken out in the "Off High" column.
3. Domestic Trend Tracking Indexes (TTIs)
Again, our Trend Tracking Indexes (TTIs) changed only slightly from yesterday's close:
Domestic TTI: +2.41% (last close +2.48%)
International TTI: +2.74% (last close +2.89%)
Disclosure: I am obliged to inform you that I, as well as advisory clients of mine, own some of these listed ETFs. Furthermore, they do not represent a specific investment recommendation for you, they merely show which ETFs from the universe I track are falling within the guidelines specified.
Contact Ulli