[Chart courtesy of MarketWatch.com]
1. Moving The Markets
The stock market returned to record levels today as investors regained their appetite for riskier stocks.  All major indexes gained, as the intra day chart above shows. Internet stocks, which have taken quite a beating over the past month, pulled a turnaround, with Twitter (TWTR) and Facebook (FB) at  the top of the list of Nasdaq leaders.
Stocks also got a boost from some M&A news today. Pinnacle Foods Inc. (PF) shares jumped 13.2% today after we heard the announcement that they will be acquired by Hillshire Brands (HSH), a major retailer of meat and frozen bakery goods. Also, Pfizer (PFE) shares rose slightly after the company published a letter to a parliamentary committee in the United Kingdom arguing its case for its proposed $106 billion acquisition of AstraZeneca (AZN).
It was a good day in the international realm as well. European shares edged higher: London's FTSE 100, Germany's DAX and France's CAC all gained on the day. China's Shanghai Composite jumped 2.1%, however the Nikkei in Tokyo dropped 0.35%. Investors continue to keep a close eye on geopolitical developments in the Ukraine, but they seemed to shrug off Sunday's vote in a region of eastern Ukraine that showed an overwhelming majority in favor of independence.
Our 10 ETFs in the Spotlight had a good as well with 4 of them making new highs while 9 of them are on the plus side YTD.
2. ETFs in the Spotlight
In case you missed the announcement and description of this section, you can read it here again.
It features 10 broadly diversified ETFs from my HighVolume list as posted every Monday. Furthermore, they are screened for the lowest MaxDD% number meaning they have been showing better resistance to temporary sell offs than all others over the past year.
In other words, none of them ever triggered their 7.5% sell stop level during this time period, which included a variety of severe market pullbacks but no move into outright bear market territory.
Here are the 10 candidates: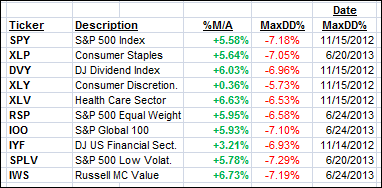 All of them are in "buy" mode, meaning their prices are above their respective long term trend lines by the percentage indicated (%M/A).
Year to date, here's how the above candidates have fared so far:
To be clear, the first table above shows the position of the various ETFs in relation to their respective long term trend lines (%M/A), while the second one tracks their trailing sell stops in the "Off High" column. The "Action" column will signal a "Sell" once the -7.5% point is taken out in the "Off High" column.
3. Domestic Trend Tracking Indexes (TTIs)
Our Trend Tracking Indexes (TTIs) joined the rally and closed higher:
Domestic TTI: +2.67% (last close +2.05%)
International TTI: +3.58% (last Friday +2.87%)
Disclosure: I am obliged to inform you that I, as well as advisory clients of mine, own some of these listed ETFs. Furthermore, they do not represent a specific investment recommendation for you, they merely show which ETFs from the universe I track are falling within the guidelines specified.
Contact Ulli