ETF/No Load Fund Tracker StatSheet
————————————————————-
THE LINK TO OUR CURRENT ETF/MUTUAL FUND STATSHEET IS:
https://theetfbully.com/2014/04/weekly-statsheet-for-the-etfno-load-fund-tracker-newsletter-updated-through-04032014/
————————————————————
Market Commentary
Friday, April 4, 2014
STOCKS POSITIVE OVERALL FOR THE WEEK ON OPTIMISTIC U.S. ECONOMIC DATA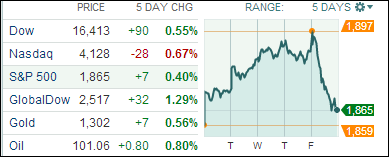 [Chart courtesy of MarketWatch.com]
1. Moving The Markets
Stocks rose as a suite of economic data raised optimism about the health of the economy.  Headlining the focus was the March employment report, which showed job growth of 192,000 for the month.  Combined with upward revisions to hiring in January and February, and an increase in the average hours worked, labor market trends are consistent with other indicators that signal the economy is regaining its footing after a volatile first quarter.  The end of March marked the fifth consecutive quarterly advance for the stock market, with the S&P 500 delivering a total return of 1.8% in the first three months of the year.
Elsewhere, the largest S&P 500 sector, technology, proved to be a significant drag on the major averages amid weakness in large names. Apple (AAPL) Google (GOOG), Microsoft (MSFT), and Visa (V) lost between 1.3% and 4.7% with Google seeing the largest decline of the bunch. Smaller momentum names registered even larger losses with FireEye (FEYE), Splunk (SPLK), and Yelp (YELP) down between 5.6% and 8.2%. The three names extended their weekly losses to 20.7%, 12.0%, and 14.1%, respectively.
On the upside, utilities (+0.6%) posted a solid gain with lower yields giving a boost to the rate-sensitive sector.
Gold rose the most in three weeks. Gold has rebounded this year after plunging almost 30% last year as the dollar appreciated and the U.S. economy showed signs of strengthening without inflation. In energy trading, the price of oil rose 85 cents, or 0.8%, to $101.14 a barrel.
Our 10 ETFs in the Spotlight rode the roller coaster with the indexes but 9 of them are remaining on the plus side YTD.
2. ETFs in the Spotlight
In case you missed the announcement and description of this section, you can read it here again.
It features 10 broadly diversified ETFs from my HighVolume list as posted every Monday. Furthermore, they are screened for the lowest MaxDD% number meaning they have been showing better resistance to temporary sell offs than all others over the past year.
In other words, none of them ever triggered their 7.5% sell stop level during this time period, which included a variety of severe market pullbacks but no move into outright bear market territory.
Here are the 10 candidates: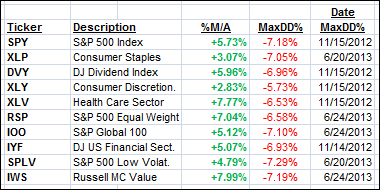 All of them are in "buy" mode meaning their prices are above their respective long term trend lines by the percentage indicated (%M/A).
Year to date, here's how the above candidates have fared so far: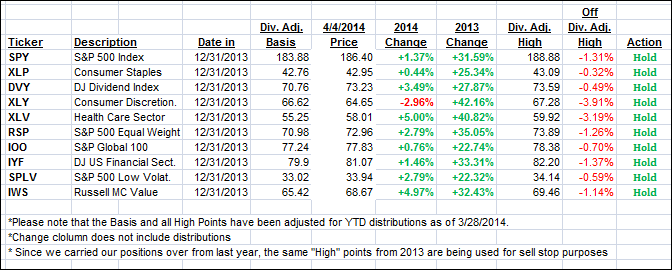 To be clear, the first table above shows the position of the various ETFs in relation to their respective long term trend lines (%M/A), while the second one tracks their trailing sell stops in the "Off High" column.
3. Domestic Trend Tracking Indexes (TTIs)
Our Trend Tracking Indexes (TTIs) only changed slightly from last Friday's close due to today's sell off, which wiped out most of the gains:
Domestic TTI: +2.31% (last Friday +2.48%)
International TTI: +3.74% (last Friday +3.37%)
Have a great week.
Ulli…
Disclosure: I am obliged to inform you that I, as well as advisory clients of mine, own some of these listed ETFs. Furthermore, they do not represent a specific investment recommendation for you, they merely show which ETFs from the universe I track are falling within the guidelines specified.
————————————————————-
READER Q & A FOR THE WEEK
All Reader Q & A's are listed at our web site!
Check it out at:
http://www.successful-investment.com/q&a.php
A note from reader Ken:
Q: Ulli: I follow you via Twitter and noticed that you publish Friday's newsletter edition around 4 pm PST. About an hour later you publish an update, but I can't seem to figure out what has been updated. Could you explain?
A: Ken: Sure, when I publish the newsletter, I don't have all weekending values available by 4 pm. The update I post later in the day makes a correction to the Trend Tracking Indexes (TTIs) when the weekly moving averages are being adjusted. These data points become available later on, hence the update.
———————————————————-
WOULD YOU LIKE TO HAVE YOUR INVESTMENTS PROFESSIONALLY MANAGED?
Do you have the time to follow our investment plans yourself? If you are a busy professional who would like to have his portfolio managed using our methodology, please contact me directly or get more details at:
https://theetfbully.com/personal-investment-management/
———————————————————
Back issues of the ETF/No Load Fund Tracker are available on the web at:
https://theetfbully.com/newsletter-archives/
Contact Ulli