[Chart courtesy of MarketWatch.com]
1. Moving The Markets
Stocks traded pretty flat for most of the day, and all the major indexes finished in the red zone.  Some analysts blame the February Consumer Confidence reading of 78.1, which was lower than the consensus of 80.1.
Macy's (M) released some positive earnings numbers which showed profits increased 11% during the Q4 2013 holiday season.  The stock finished 6% higher on the day.  Tesla had another monster day.  Are you surprised?  This company just can't help from stealing headlines these days.  Shares ended the day up another 14% after Consumer Reports rated the company's Model S sedan as the best overall vehicle in its annual top ten list. Also boosting the share price was the fact that Morgan Stanley raised its target price on Tesla from $153 to $320 a share.
Today was a scary day for all those Bitcoin fanatics out there. The price of a Bitcoin plummeted more than ten percent after Mt. Gox, one of the largest trading exchanges disappeared. The exchange's website has gone offline with no Tweet to be found. One rumor going around is that $350 million worth of Bitcoins have been stolen by hackers. In other tech news, LinkedIn (LNKD) opened its beta Simplified Chinese language site. The company mentioned it has around 4 million Chinese users on its English version website but estimates it can broaden its user base to 140 million Chinese users with the language upgrade. Shares gained 5.17 percent, closing at $209.90.
And finally over to Japan. The Japanese government announced details of a national plan that designates atomic power as an important long-term electricity source. The new Basic Energy Plan, which states Japan will push to restart reactors closed in the wake of the Fukushima disaster and suggests it might build new ones, contradicts a promise made by a previous government to phase out the country's atomic power plants.
Our 10 ETFs in the Spotlight meandered with 5 of them having turned positive for the year.
2. ETFs in the Spotlight
In case you missed the announcement and description of this section, you can read it here again.
It features 10 broadly diversified ETFs from my HighVolume list as posted every Monday. Furthermore, they are screened for the lowest MaxDD% number meaning they have been showing better resistance to temporary sell offs than all others over the past year.
In other words, none of them ever triggered their 7.5% sell stop level during this time period, which included a variety of severe market pullbacks but no move into outright bear market territory.
Here are the 10 candidates: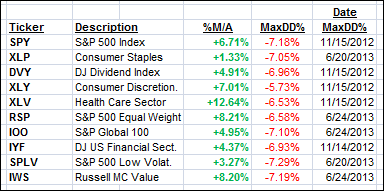 All of them are in "buy" mode meaning their prices are above their respective long term trend lines by the percentage indicated (%M/A).
Year to date, here's how the above candidates have fared so far:
To be clear, the first table above shows the position of the various ETFs in relation to their respective long term trend lines (%M/A), while the second one tracks their trailing sell stops in the "Off High" column.
3. Domestic Trend Tracking Indexes (TTIs)
Our Trend Tracking Indexes (TTIs) inched higher by a small margin:
Domestic TTI: +3.84% (last close +3.79%)
International TTI: +6.65% (last close +6.58%)
Contact Ulli