ETF/No Load Fund Tracker Newsletter For Friday, November 29, 2013
ETF/No Load Fund Tracker StatSheet
————————————————————-
THE LINK TO OUR CURRENT ETF/MUTUAL FUND STATSHEET IS:
https://theetfbully.com/2013/11/weekly-statsheet-for-the-etfno-load-fund-tracker-newsletter-updated-through-11272013/
————————————————————
Market Commentary
Friday, November 29, 2013
GOVERNMENT SHUTDOWN SEEMS ALL BUT FORGOTTEN

[Chart courtesy of MarketWatch.com]
1. Moving The Markets
The factors behind stocks' gains this week were perhaps more difficult to pin down than usual. One driver appeared to be a general sense that economic growth was improving, but not so fast as to encourage the Federal Reserve to slam on the brakes by tightening monetary policy. Stocks saw their biggest gains on Thursday, when the Labor Department reported that weekly jobless claims had declined to levels last seen in September—and close to where they had been before the recession began in late 2007.
Perhaps one of the most important economic news stories of the week pertained to Barak Obama's signature healthcare reform. The administration revealed Wednesday that online health insurance enrollment for small businesses will be delayed by a year. The opening of the online health exchange for small businesses had previously been delayed until the end of this month, but it has now been pushed back until November of 2014.
The government shutdown and fiscal problems seem all but forgotten though as the ETF markets rallied throughout November. The top non-leveraged ETFs over November include Global X China Financials ETF (CHIX) up 11.2%, SPDR S&P Pharmaceuticals ETF (XPH) up 10.5% and iShares China Large-Cap ETF (FXI) up 10.0%.  Chinese stocks are rising to a one-month high after Beijing pledged extensive economic, legal and social reforms.
Our ETFs in the spotlight confirm these trends, so let's take a look:
2. ETFs in the Spotlight
In case you missed the announcement and description of this section, you can read it here again.
It features 10 broadly diversified ETFs from my HighVolume list as posted every Monday. Furthermore, they are screened for the lowest MaxDD% number meaning they have been showing better resistance to temporary sell offs than all others over the past year.
In other words, none of them ever triggered their 7.5% sell stop level during this time period, which included a variety of severe market pullbacks but no move into outright bear market territory.
Here are the 10 candidates: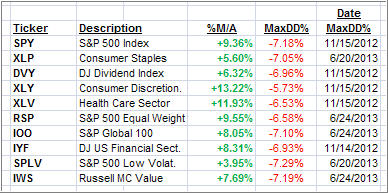 All of them are in "buy" mode meaning their prices are above their respective long term trend lines by the percentage indicated (%M/A).
Now let's look at the MaxDD% column and review the ETF with the lowest drawdown as an example. As you can see, that would be XLY with the lowest MaxDD% number of -5.73%, which occurred on 11/15/2012.
The recent sell off in the month of June did not affect XLY at all as its "worst" MaxDD% of -5.73% still stands since the November 2012 sell off.
A quick glance at the last column showing the date of occurrences confirms that five of these ETFs had their worst drawdown in November 2012, while the other five were affected by the June 2013 swoon, however, none of them dipped below their -7.5% sell stop.
Year to date, here's how the above candidates have fared so far:

With the positive tone in the market having returned, 2 ETFs have made new highs this week represented by the 0.00% value in the "Off High" column.
3. Domestic Trend Tracking Indexes (TTIs)
Trend wise, our Trend Tracking Indexes (TTIs) headed higher with the indexes and remain above their long term trend lines by the following percentages:
Domestic TTI: +4.85% (last Friday +4.77%)
International TTI: +7.57% (last Friday +7.42%)
Have a great week.
Ulli…
Disclosure: I am obliged to inform you that I, as well as advisory clients of mine, own some of these listed ETFs. Furthermore, they do not represent a specific investment recommendation for you, they merely show which ETFs from the universe I track are falling within the guidelines specified.
————————————————————-
READER Q & A FOR THE WEEK
All Reader Q & A's are listed at our web site!
Check it out at:
http://www.successful-investment.com/q&a.php
A note from reader Mike:
Q: Ulli: What is the difference between the "DD%" and the "trailing stop loss %"?
A: Mike: The DD% refers to the percentage a fund has come off its high. This is the high a fund has made since you purchased it, and it serves as a basis for calculating the trailing sell stop. For example, let's assume you bought an ETF for $10 and it subsequently moves as follows for the next trading days: 10.05, 9.98, 10.15, 10.21, 10.30, 10.19, 10.14…
The high it has made in this data series is 10.30, which becomes the basis for calculating your 7.5% trailing sell stop, which would be at 9.52. If prices sink through 9.52, without taking out the high of 10.30 first, that would be your trigger point to exit the position.
In my weekly StatSheet listings, you can see the percentage a fund has come off its high in the DD% column. Once that number exceeds -7.5%, it means a sell signal for that fund has been generated. To be clear, if you bought this fund at a different time than shown in the StatSheet, you need to track your own highs (no pun intended) as mentioned above.
Hope this clarifies it.
———————————————————-
WOULD YOU LIKE TO HAVE YOUR INVESTMENTS PROFESSIONALLY MANAGED?
Do you have the time to follow our investment plans yourself? If you are a busy professional who would like to have his portfolio managed using our methodology, please contact me directly or get more details at:
https://theetfbully.com/personal-investment-management/
———————————————————
Back issues of the ETF/No Load Fund Tracker are available on the web at:
https://theetfbully.com/newsletter-archives/
Contact Ulli