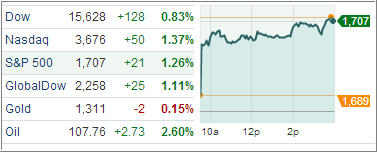 [Chart courtesy of MarketWatch.com]
U.S. equity markets shrugged off yesterday's lackluster performance to close Thursday trading session nicely higher, with the Dow and S&P 500 indices soaring into record high territory in the wake of a stronger-than-forecasted U.S. manufacturing report and better-than-expected sector reports out of China and the Eurozone.
The Standard & Poor's 500 Index advanced above 1,700 for the first time, a level the index had struggled with in the past few sessions, and registered a record high close of 1706.87. All 10 S&P 500 sectors in the black, though growth-sensitive financials, industrials and consumer discretionary shares registered the biggest gains.
The financial sector advanced 1.7% as all top components posted gains with American Express leading the way. Elsewhere, industrials received significant support from transportation companies. Transportation stocks soared even as crude oil returned to its mid-July highs. The energy component advanced 2.5% to $107.70 per barrel. While most of today's action in the equity markets took place during the opening minutes, treasuries and the dollar were a bit more active. Treasuries ended on their lows as heavy selling put significant upward pressure on yields.
Better-than-expected data from around the world sparked a bid in risk assets and weighed heavily on treasuries, causing longer dated yields to close at their highest level in two years. Meanwhile, the Dollar Index climbed to its best level in two weeks as the greenback registered largest gains against the yen and the euro.
Today's economic data was plentiful. Initial claims for unemployment insurance fell 19,000 last week to 326,000, the fewest since January 2008. Economists expected a 2,000 increase to 345,000. This only matched the revision to the previous week.
Separately, the ISM Manufacturing Index rose 4.5 points in July; the biggest gain since June 1996, to 55.4, the highest level in more than two years, and well above the consensus of 52.0. It was the biggest underestimation since June 2011. The current level is consistent with above-trend growth in manufacturing output. According to the report, the index level corresponds to 4.1% annual growth in real GDP.
The European equity markets were boosted by the plethora of favorable global manufacturing reports, including the release of the Eurozone Manufacturing PMI Index, which was revised to a higher rate of expansion (50.3 actual, 50.1 expected).
Moreover, China's manufacturing report helped buoy sentiment, as the Manufacturing PMI Index unexpectedly remained in expansion territory (50.3 actual, 49.9 expected). In the wake of the data, China's government reiterated that it is committed to prevent growth from slipping below a "reasonable level," per Bloomberg, which provided further support.
Our Trend Tracking Indexes (TTIs) zoomed higher with the markets and reached the following levels:
Domestic TTI: +3.73%
International TTI: +7.21%
Contact Ulli