[Chart courtesy of MarketWatch.com]
The Dow Jones Industrial Average jumped to a new high Tuesday, trimming losses from the financial crisis after a four-year rally, fueled by monetary stimulus from the Federal Reserve and alleged indications of an improving economy.
Equities extended their gains after the Institute for Supply Management's index for non-manufacturing activity rose to 56 percent from 55.2 percent in Jan., marking its 39th consecutive month of expansion.
The Dow industrials (DJIA) jumped 126 points to 14,253.77, easily topping the its all-time closing high of 14,164.53 set on Oct 9, 2007, ahead of the global financial meltdown.
The 30-component blue-chip index fell 34 percent in 2008 after the housing bubble burst and the federal government had to move in to save the US banking system.
A $2.3 trillion in Fed stimulus pushed investors back in equities, sending the Dow up more than 116 percent from the March 2009 low of 6,547.05. The index's valuation remains 19 percent less than the price-earnings ratio at the previous peak and 14 percent below its 20-year average.
You hear most analysts pounding their chest about how much better off we are now than we were the last time the Dow was here. Are we really? Take a look at this list: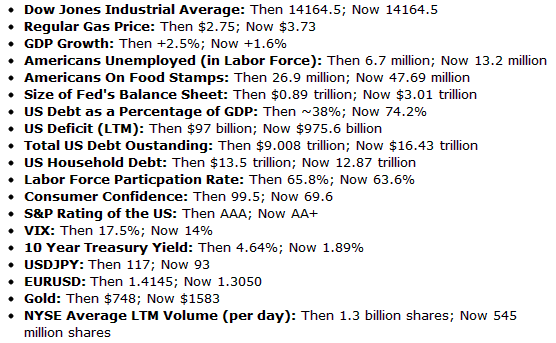 Treasuries prices fell for a second day, pushing yields up after a report showed US services industry expanded at the fastest pace in a year, diminishing demand for safer US assets.
The US dollar meanwhile trimmed losses against most major rivals Tuesday even as traders stacked up riskier assets. Strategists said the dollar's ability to gain traction despite a rising risk appetite shows the growing disconnect with equities.
European stocks rose, with the Stoxx Europe 600 index surging to a 4 1/2 –year high on Tuesday as investors cheered strong euro-zone retail sales amid speculations central banks around the world will continue with loose monetary policies to support economic recovery.
The Markit eurozone PMI composite output index rose to 47.9 from a preliminary estimate of 47.3, but below January's 48.6.
January retail sales surprised to the upside with a 1.2 percent improvement above market expectations.
The Stoxx Europe 600 index added 1.8 percent, marking its highest closing level since June 2008.
Germany's DAX 30 index added 2.3 percent in Frankfurt, lifted by a 2.4 percent rise in BMW.
France's CAC 40 index added 2.1 percent in Paris, helped by a 2.2 percent rise in oil major Total SA.
UK's FTSE 100 index picked up 1.4 percent in London.
Not to be outdone, our Trend Tracking Indexes (TTIs) joined the party and closed at +3.61% (Domestic TTI) and +9.96% (International TTI). If you still wish to get involved in equities, there are three things you must pay attention to. I have outlined them in tomorrow's Model ETF Portfolio report.
Contact Ulli