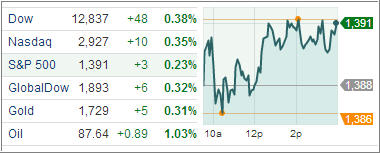 [Chart courtesy of MarketWatch.com]
US equities managed to eke out modest gains with major averages hitting a near two-week high after a ceasefire deal was announced between Israel and Hamas in Egypt, propelling the S&P 500 and NASDAQ Composite into the expansionary territory for the fourth straight session.
In the US, weekly jobless claims dropped to 410,000, a Labor Department report showed, beating forecasts as fewer Americans filed first-time applications for unemployment benefits last week despite the severe impact of Superstorm Sandy.
The Dow Jones Industrial Average (DJIA) moved up by 48 points while the S&P 500 Index (SPX) added 3 points with energy gaining the most and utilities the only sector to lose among its 10 business groups.
After finding support early on, Treasury yields edged higher, pushing prices down for the third straight day as positive US economic data offset renewed worries over Europe's ability to solve the protracted debt crisis.
The 27-member EU leaders are due to meet tomorrow in Brussels to finalize the budget after EZ finance ministers failed to make any progress over the details of a debt-reduction package for Greece as a group of top creditors led by Germany refused to accept losses on a portion of aid loans.
The US dollar eased, and the euro regained its footing against, shrugging off jitters after Eurozone officials and the IMF failed strike a deal over Greece's debt-reduction targets after a marathon 11-hour session that ended Wednesday morning.
Meanwhile European shares managed to log marginal gains after a volatile trading session as investors stuck to the sidelines after Greece debt negotiations over deficit reduction failed. The Stoxx Europe 600 index rose 0.2 percent after swinging between losses and small gains.
France hit the headlines for the second day in a row after Fitch said it would it would evaluate the country's sovereign credit rating in 2013. Standard & Poor's had cut France's rating in January while Moody's Investors Services stripped the country of its triple-A rating late Monday.
The DAX 30 index climbed 0.2 percent in Frankfurt. Siemens AG tanked 1.2 percent after Deutsche Bank cut the industrial conglomerate to sell from hold citing valuation issues.
The CAC 40 index climbed 0.4 percent in Paris, lifted by shares of Veolia Environnement SA. The environmental services firm rose 1.3 percent after it finalized the sale of its US solid-waste operations for $1.9 billion.
The FTSE 100 index added 0.1 percent in London, boosted by oil firms BG Group Plc and Royal Dutch Shell Plc.
In the ETF space, precious metal miners surged after gold futures for December delivery rose $4.60 to $1728.20 an ounce. The Van Eck Market Vectors TR Gold Miners Fund (GDX) jumped 1.52 percent while the StateStreet SPDR S&P Metals & Mining ETF (XME) rose 0.72 percent.
Our Trend Tracking Indexes (TTIs) barely changed, and you can see their current positions, along with all momentum numbers, in the latest StatSheet, which I will post tomorrow morning.
Have a Happy Thanksgiving Day!
For quick access to the most recent StatSheet including TTI charts and all momentum figures, click here. You can read the latest ETF Model Portfolio update here.
Disclosure: No holdings in ETFs discussed above
Contact Ulli