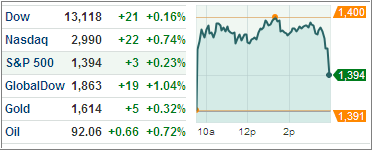 [Chart courtesy of MarketWatch.com]
Major market indexes closed higher Monday extending Friday's rally as investors remained positive over news of lower Spanish and Italian borrowing costs and a stronger-than-expected jobs report last Friday.
The Dow Jones Industrial Average (DJIA) rose 21 points paring the day's 91-point gain. Within the Dow, the breadth remained positive with 19 of the index's 30 stocks ending in the expansionary territory.
The S&P 500 Index (SPX) climbed 3 points with technology and materials outperforming and utilities lagging among its 10 business sectors.
US Treasuries remained largely unchanged despite rising earlier in the session amid hopes the European Central Bank will intervene to assist growth even as political differences in Europe continue to aggravate the region's crisis.
The 10-year benchmark Treasury yield lost one basis point to end at 1.56 percent after sinking as much as three basis points earlier. Yield on 30-year bonds traded one basis point lower at 2.65 percent in late afternoon business, New York time.
ETFs in the news:
After spending months in the doghouse, the Guggenheim Solar ETF (TAN) surged today, vaulting 4.79 percent on the day. Investors turned bullish on solar energy after photo-voltaic cell manufacturer First Solar (FSLR) beat street expectations last Friday and also upgraded outlook for 2012. First Solar is TAN's third largest holding. However, it's important to note TAN has lost about 36 percent since its April highs and has returned 36.64 percent year-to-date.
As yield on Spanish govt. bonds dropped sharply, Spain-linked ETFs rose on hopes of timely ECB intervention. The iShares MSCI Spain Index Fund (EWP) jumped 4.05 percent after 10-year yields shed 13 basis points to 6.71 percent while two-year yields tumbled to 3.06 percent, a loss 46 basis points. The iShares MSCI Italy Index Fund (EWI) also advanced, adding 2.02 percent on the day.
As risk sentiment improved, the so-called fear-tracking ETFs tanked. The ProShares VIX Short-Term Futures ETF (VIXY) was among the day's worst performers, shedding 2.24 percent on the day. The Barclays iPath S&P 500 VIX Short-Term Futures ETN (VXX) also tumbled, losing 2.47 percent on the day.
While our Domestic TTI now stands in bullish territory by +2.93%, the international TTI has climbed out of the basement, which it had occupied since 5/15/12, to peek above the trend line by a slight +0.74%.
This just happened today and is not a convincing enough move to lift the 'Sell' signal for that arena. I like to see more staying power above the line before acknowledging that a trend change in fact has occurred.
Disclosure: No holdings
Contact Ulli