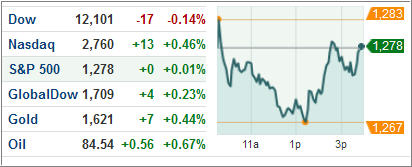 [Chart courtesy of MarketWatch.com]
US equities remained near flat Monday despite witnessing choppiness in early trading as a larger-than-expected drop in factory orders added to souring sentiment about the domestic growth. US factory orders slipped 0.6 percent in April against an expected gain of 0.1 percent.
Treasuries retreated for the first time in four days to erase earlier gains amid a growing realization that US debts are overvalued if the markets are pricing in an impending economic slowdown.
The fall in both 10-year and 30-year yields indicate investors are increasingly willing to bet a resumption of monetary stimulus measures by the Federal Reserve and the European Central Bank.
The Dow Jones Industrial Average (DJIA) ended near flat, shedding 0.1 percent to settle at 12,101.46. The blue-chips had lost as much as 83 points in the day's trade, but clawed back on positive news from Europe. The overall trend remained negative with 14 of the 30 components finishing lower for the day.
The S&P 500 Index (SPX) climbed 0.01 percent to end at 1278.18 after finishing lower for three days in a row while the tech-laden NASDAQ Composite Index (COMP) gained 0.5 percent to close at 2760.01, snapping a four day losing session.
10-year Treasury yields zoomed seven basis points to 1.52 percent after reports appearing in the Wall Street Journal suggested European leaders trying to build consensus over containing the current euro debt crisis.
The report also suggested Europe's paymaster Germany is warming up to eurozone bonds and mutual support for EZ banks, ideas that Berlin had opposed previously, in exchange of stricter supervision of the eurozone countries by European Union institutions. We've heard many rumors like this before, so we'll have to wait to see how this one will play out. 30-year bond yields rose five basis points to 2.57 percent after touching a record low 2.5089 on Friday.
ETFs in the news:
Europe linked ETFs made progress after days of flogging by the markets. Funds linked to Spain gained after news appeared in the WSJ that German chancellor Angela Merkel is opening up to the idea of an European banking union despite opposing it on previous occasions, provided countries agreed to stricter oversight from the European Union institutions.
This bodes well for Spain whose banking system is looking at a looming meltdown. Der Spiegel reported over the weekend that German Finance Minister Wolfgang Schäuble has discussed plans with Chancellor Merkel to pressure Spain into accepting bailout money from the European Financial Stability Mechanism to recapitalize its struggling banks.
The iShares MSCI Spain Index Fund (EWP), that follows the MSCI Spain Index, vaulted 4.38 percent on positive banking developments in Europe. EWP is overweight on Spanish banking stocks and its top ten holdings include Santander, BBVA and Banco de Sabadell. Both Santander and BBVA ralled more than 4 percent today
The iShares MSCI Italy Index Fund (EWI) jumped 3.11 percent over the positive banking news. EWI's fourth largest holding, Italian bank Intesa Sanpaolo SpA surged 5.8% for the day.
The Van Eck Market Vectors Solar Energy ETF (KWT) featured among the day's top losers, dropping 4.51 percent for the day as solar energy stocks heavily rely on European government subsidies. However, alternative energy will be an interesting watch should market sentiment improve. The continuing uncertainties in solar-heavy countries like Spain are weighing down this ETF.
While we remain stuck on the bearish side with our International TTI (-6.84%), domestically we are heading in the same direction, although at a lesser pace. As of today, our Domestic TTI is still hanging on to bullish sentiment but only by a meager +1.03%.
Disclosure: No holdings
Contact Ulli