[Chart courtesy of MarketWatch.com]
US stocks closed flat despite the domestic economy showing signs of improvement and Europe appearing less toxic. Early gains for the day, after stronger-than-expected housing data came in, were offset by a pullback in the energy sector.
The Dow Jones Industrial Average (DJIA) shed 0.01 percent, to end at 12,982 while the S&P 500 managed to add 1.9 points and closed 1,368. The NASAQ Composite added 2.4 points to Friday's close to settle at 2,966.
The energy sector was down 0.4 percent as oil prices retraced from the $110 a barrel mark to pare previous gains.
Stocks were falling in early trade as reports of G20 ministers rebuffing Germany's call for higher resources for the Eurozone appeared overnight. The Group of 20 countries said Europe must strengthen their financial firewall before other nations commit more money to the International Monetary Fund.
The G20 is planning to create bailout funds worth $2 trillion with $1 trillion from Europe's temporary (EFSF) and permanent funds (ESM) and about $500 billion for the IMF.
However, equities bounced back after National Association of Realtors announced that index of pending home sales have jumped 2 percent in January to hit a near tow-year high.
Fourth quarter revenue for home improvement retailer Lowe's (LOW) came in higher-than-expected at $11.63 billion.
Yields on 10-year treasuries dropped to 1.92 percent from 1.98 percent on Friday as investors sought safer US securities amid falling confidence on the EU region.
The iPath Dow Jones UBS Natural Gas Subindex Total Return ETN (GAZ) topped the winner's list as it added 8.5 percent on the day. However, the United States Natural Gas Fund (UNG) that also tracks a basket of futures gas contracts shed nearly 3 percent to end in the negative territory.
Before you get all excited about the 8.5% gain, keep in mind that both, UNG and GAZ, have been stuck in a multi-year bear market as the following chart shows: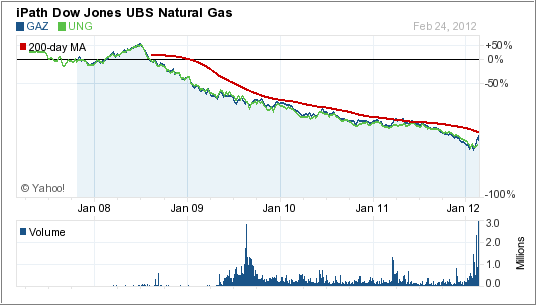 [Chart courtesy of YahooFinance]
There is no reason to take any position until a clear trend reversal has occurred.
If you are looking to tap the real estate market, you may consider the REIT backed iShares Dow Jones U.S. Real Estate Index Fund (IYR), or, alternatively, VNQ.
April oil futures closed at $108.56 a barrel despite breaching the $109 mark last week.
Gold futures for April delivery settled at $1774.90 an ounce, down $1.50 over Friday's close.
Our Trend Tracking Indexes (TTIs) changed only slightly.
Disclosure: Holdings in VNQ, GLD
Contact Ulli