With the sell off continuing, the cutline suddenly became very crowded by equity mutual funds, which dropped in from a level above the highest +20 reading.
As a regular reader, you know that lately most of the funds, hovering slightly above and below their long-term trend line, were bond funds. That's changed dramatically this week, as further market weakness pulled equities off their lofty levels.
From last week's report, only Scudder International (SUIAX) remained on the list, but it retreated from +19 to its current -8 position.
The momentum numbers worsened considerably, including the all important DrawDown figures in the DD% column. If this pullback turns out to be temporary in nature, which is far from being certain, any moves back above the cutline will offer new potential buying opportunities, provided most negative numbers turn into positive ones.
However, right all major indexes are slipping, so be sure to look at the latest update for our Trend Tracking Indexes (TTIs), at the end of this week's cutline report: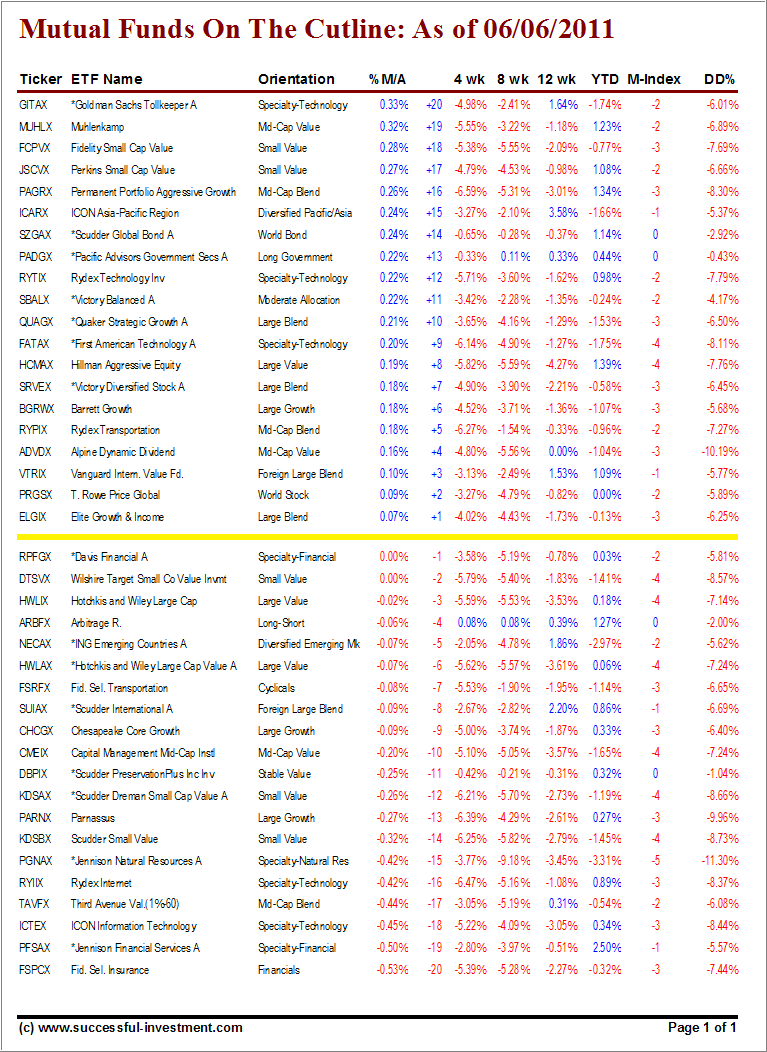 [Click on table to enlarge, copy and print]
Economic growth has clearly lost steam, as last week's reports confirmed, equities are bound to be affected and could very well turn the corner by sliding into bear market territory.
As of yesterday, the international TTI (Trend Tracking Index) has come within +0.67% of breaking its trend line, while the domestic TTI has shown more strength by still hovering in bullish territory by +2.87%.
If we actually move into bear market territory, be sure to look for my updates in the daily blog posts. Given current conditions, this is not the time to add new positions.
Quick reference to recent issues:
Disclosure: No holdings in funds discussed
Contact Ulli