Following our International Sell signal last week, more foreign mutual funds succumbed to selling pressure, despite yesterday's bounce, and have slipped into bear market territory. Some of the big names from last week are:
Fidelity International Diversified (FDIVX), which fell from +11 to below the -20 position, while the Vanguard International Stock Index (VGTSX) followed suit by moving from +10 to below the -20 spot.
Dropping in from a level above the +20 listing was T. Rowe Price International (TRIGX), which settled at -1.
It confirms my current view that broadly diversified international funds/ETFs are not the place to be at this time. Take a look at the report and note the other contenders that slid below the cutline: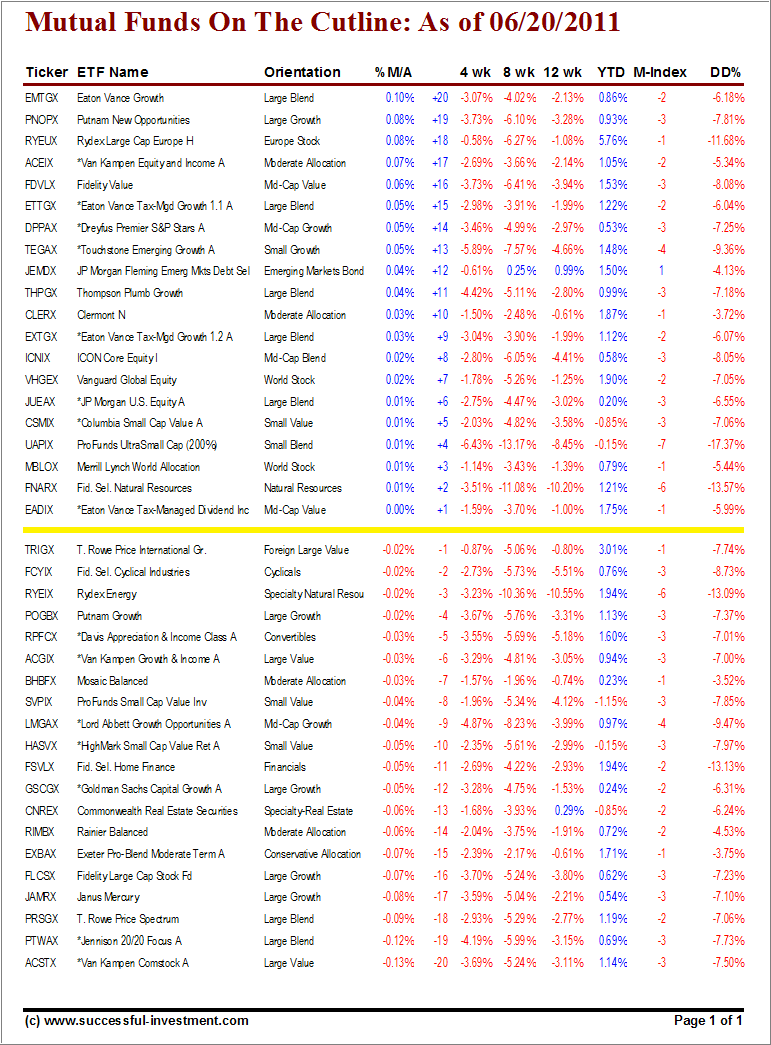 [Click on table to enlarge, copy and print]
As I mentioned in Monday's ETF Cutline report, the number to watch was the S&P 500's 200-day moving average (around 1,267). The index dropped to that number yesterday but buyers stepped in to push the market off that level.
While that is a nice trampoline effect, it remains to be seen if this bounce can carry the markets higher. I doubt that this is anything more than a temporary attempt as news was fairly benign. Watch that number closely, as a severe breach to the downside is certain to invite more bears to the party.
Quick reference to recent issues:
Disclosure: No holdings
Contact Ulli