Yesterday's sell off solidified the positions of bond funds above the cutline, while equity mutual funds succumbed to weakness in the markets. The outlook is not much different from equity ETFs, which I covered yesterday.
Last week's equity weaklings (RYAZX, JAOSX, PRLAX, FAIRX) have now dropped off the cliff below the -20 position. Should the markets regain momentum, they will appear in the listings again once they work their way higher.
However, right now the markets are in correction mode, and a couple more equity funds bit the dust by moving below the cutline:
Janus Orion (JORNX) dropped from -19 to -11
Legg Mason Opportunity (LMOFX) moved from +8 to the -13 position
Let's take a look at the table: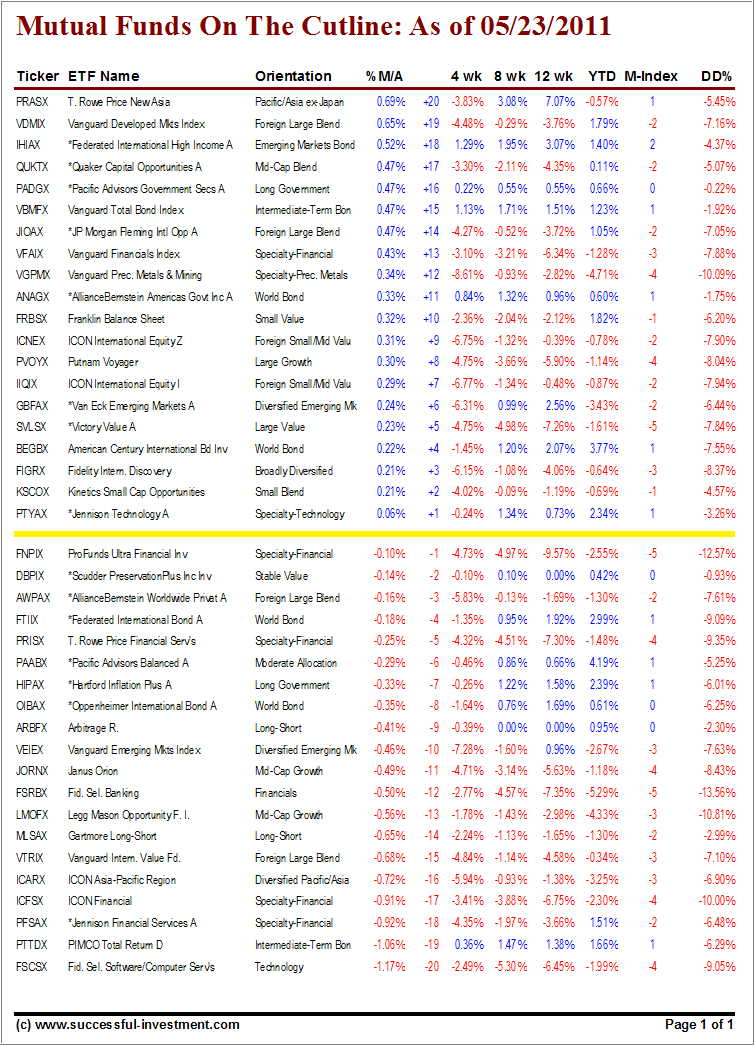 [Click on table to enlarge, copy and print]
The plus side of the cutline now clearly belongs to bond mutual funds, which tend to move opposite to equities when the heat is on. While a few equity funds still hover within the first 20 spots above the yellow line, their momentum numbers are reflecting weakness and not strength, while their DD% numbers indicate a move towards their trailing sell stops rather than away from them.
In the current environment, this is the not the time to add any new equity positions, and the momentum numbers confirm this to be the right choice.
Quick reference to recent issues:
Disclosure: No holdings in funds discussed
Contact Ulli