This past week's rollercoaster ride was reflected on the equity side in the latest ETF Cutline report.
More weakness than strength contributed to some slipping and sliding with the exception of the bond arena, which better maintained upward momentum. No surprise there, as bonds tend to rally when equities begin to soften. As in the prior week, more slippage occurred with international/country ETFs:
Japanese stocks (JSC) from +18 to -14
Vanguard Pacific (VPL) from -9 to -16
Brazil (BRF) from -11 to -20
Diversified Emerging Markets (EEB) remained in the -19 spot
Bucking the trend was the Chinese ETF (FXI), which rallied from -12 to +18
As I posted in "How do I use the ETF Cutline Table to make a Buy decision," just because an ETF rallies above its trend line, does not mean it's a buy. If you missed it, take a look at the link for details on what to look for before pulling the trigger.
Here's this week's report: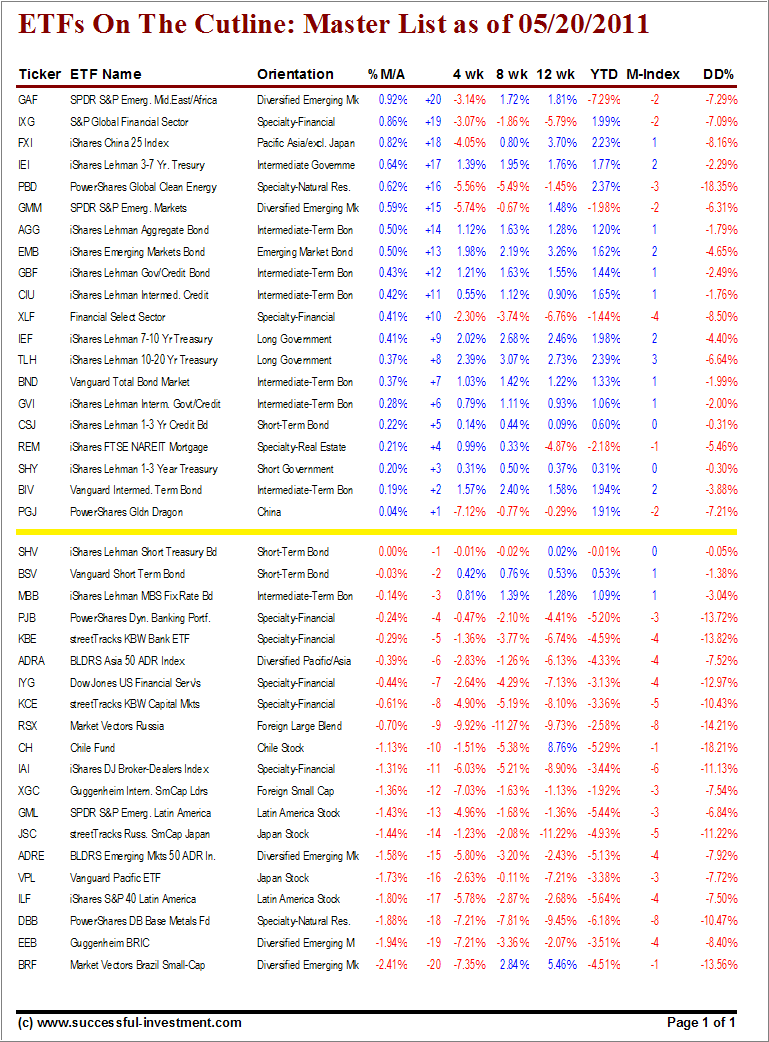 [Click on table to enlarge, copy and print]
For the last 2 reports, PGF was the only equity ETF worthwhile considering. It has now moved beyond the +20 position after having crossed its long-term trend line by +2.06%.
If you are looking to deploy new money in those equity ETFs, which have just crossed their trend-line to the upside, this report shows that there are no new opportunities.
For quick reference:
ETF Cutline Post as of 5/13/2011
ETF Cutline Post as of 5/6/2011
ETF Cutline Post as of 4/29/2011
ETF Cutline Post as of 4/21/2011
ETF Cutline Post as of 4/15/2011
ETF Cutline Post as of 4/8/2011
ETF Cutline Post as of 4/4/2011
Disclosure: No holdings in ETFs discussed
Contact Ulli