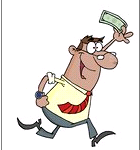 Schwab threw down the gauntlet last year by offering their suite of no transaction fee ETFs. Scottrade now picked it up as the WSJ reported (subscription required) in "Scottrade ETF Plan: Lowest Cost:"
Discount brokerage Scottrade Inc. is launching a suite of low-cost exchange-traded funds, a move that could put further pressure on fees.
On Wednesday, the closely held firm will introduce proprietary domestic-equity ETFs that will track 15 Morningstar Inc. indexes, covering the U.S. broad market, small-, mid- and large-cap stocks and 11 separate sectors. The firm, which says it aims to offer the lowest-cost ETFs in the industry, will also offer commission-free trades to its clients as well as investment advisers who custody their assets at the firm.
Firms such as Vanguard Group, Charles Schwab Corp. and Fidelity Investments already offer low-cost ETFs and have introduced commission-free ETF trades in recent years. Scottrade's chief executive Rodger Riney says, "We think there's room for another zero-commission family."
Annual fees will range from 0.05% for ETFs that track the broad U.S. market and large-cap stocks to 0.19% for sector-based ETFs. Those fees would be slightly lower than the lowest fees offered by industry leaders Vanguard, Schwab, State Street Corp.'s State Street Global Advisers and BlackRock Inc.'s iShares.
"We have been watching the industry evolve, and it's been growing very, very rapidly," says Mr. Riney, who notes that about 42% of Scottrade's customers are invested in ETFs. Industrywide, assets in ETFs surpassed $1 trillion in January, according to the Investment Company Institute, a trade group.
Scottrade will launch its Focus Morningstar ETFs through its recently acquired FocusShares subsidiary, which will be the ETF sponsor. While Scottrade won't have any fixed-income and international ETFs in the current lineup, it says it is reviewing opportunities to expand.
Whether you are a Scottrade customer or not, lower fees are certain to spread to most major brokerage houses, and we will all benefit by it.
Contact Ulli