[Chart courtesy of MarketWatch.com]
Moving the markets
The futures markets pointed to higher equity prices, as AstraZeneca became the latest competitor in the Covid-19 vaccine creation fest saying its product would be 90% effective.
News over the weekend that the first vaccine could be available within weeks after the anticipated FDA approval in mid-December helped the market continue its northerly path during the regular session.
A mid-day sell-off was the result of suggestions from the Biden administration that there would be no compromise on stimulus, which caused the US Dollar to spike and gold getting hammered. I expect this condition to be ephemeral in nature and look for a reversal by sometime next week.
The main beneficiary of today's vaccine news was Small Caps, which soared to a record high, as the result of a gigantic short-squeeze and a bulletin that Biden's primary pick for Treasury Secretary would be stimulus-hungry Janet Yellen.
In the end, the Dow lead the major indexes, with the Nasdaq lagging, as Apple got clobbered and lost some 3%, in the process breaking below its 50-day M/A.
ZH noted that hard (real economy) and soft (survey) data have massively decoupled on nothing but a sea of hope: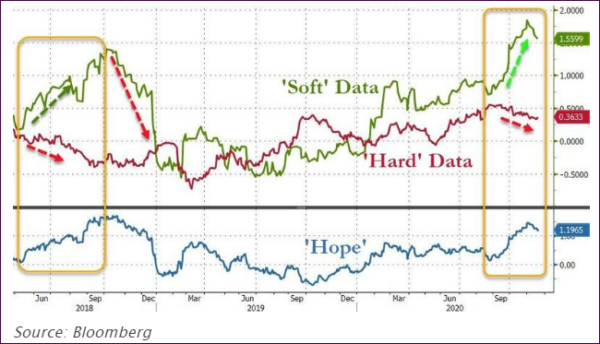 Sooner or later, I expect a recoupling to occur.
Could it be the forced selling of up to $310 billion by year-end due to the upcoming pension rebalancing of their 60/40 equity/bonds split, as JP Morgan claims?
We will have to wait to find out…
Read More