ETF/No Load Fund Tracker StatSheet
————————————————————-
THE LINK TO OUR CURRENT ETF/MUTUAL FUND STATSHEET IS:
https://theetfbully.com/2016/01/weekly-statsheet-for-the-etfno-load-fund-tracker-newsletter-updated-through-01142016/
————————————————————
Market Commentary
IF IT WALKS LIKE A BEAR AND GROWLS LIKE A BEAR…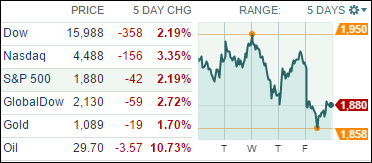 [Chart courtesy of MarketWatch.com]
1. Moving the Markets
You could call it a Black Friday as Wall Street was saturated in red and bleeding profusely with the S&P 500 dropping to its lowest since October and temporarily piercing that low but closing above it. If that level gets taken out, much lower prices are in the cards with some technicians seeing the next support level at about 1,750. For the first two trading weeks of the year, the S&P 500 has now surrendered almost 8%.
It turned out that my guess about yesterday having been a dead cat bounce was spot on with oil taking a "crude" toll on equities as the black gold sank below the $30/barrel for first time in over a decade. Adding to the misery were continued fears about economic woes in China.
It looks to be a very long weekend for those who remain invested in equities. Of course, there is certainly a chance that some of the Fed governors could come out and try to jawbone the markets back up but, short of Fed Chair Yellen renouncing the recent interest hike and promising lower rather than higher rates, I don't see a resumption of the old bull market at this time except temporarily in form of dead cat bounce.
All of our 10 ETFs in the Spotlight got spanked again as the bear market deepened. Showing the worst loss today was the Global 100 (IOO) with -2.99%. There were no winners, but the Select Dividend ETF (DVY) and Healthcare (XLV) managed more modest losses with each giving back -1.40% for the day.
We remain on the sidelines and watching this bear market debacle unfold. You can see the exact numbers in section 3 below.
2. ETFs in the Spotlight
In case you missed the announcement and description of this section, you can read it here again.
It features 10 broadly diversified ETFs from my HighVolume list as posted every Monday. Furthermore, they are screened for the lowest MaxDD% number meaning they have been showing better resistance to temporary sell offs than all others over the past year.
Here are the 10 candidates:

The above table simply demonstrates the magnitude with which some of the ETFs are fluctuating in regards to their positions above or below their respective individual trend lines (%M/A). A break below, represented by a negative number, shows weakness, while a break above, represented by a positive percentage, shows strength.
For hundreds of ETF/Mutual fund choices, be sure to reference Thursday's StatSheet.
Year to date, here's how the above candidates have fared so far:
Again, the first table above shows the position of the various ETFs in relation to their respective long term trend lines (%M/A), while the second one tracks their trailing sell stops in the "Off High" column. The "Action" column will signal a "Sell" once the -7.5% point has been taken out in the "Off High" column.
3. Trend Tracking Indexes (TTIs)
Our Domestic Trend Tracking Index (TTI) plunged again this week confirming that the bear is alive and well. There is no reason to be invested in equities until upward momentum is restored and our Domestic TTI crosses back into bullish territory again. Until such time, volatility will be on the rise, and we may see jaw dropping down moves followed by sharp dead cat bounces.
Here's how we ended this roller coaster week:
Domestic TTI: -3.56% (last Friday -2.96%)—Sell signal effective 11/13/2015
International TTI: -11.51% (last Friday -9.62%)—Sell signal effective 8/21/2015
Have a great weekend.
Ulli…
Disclosure: I am obliged to inform you that I, as well as advisory clients of mine, own some of these listed ETFs. Furthermore, they do not represent a specific investment recommendation for you, they merely show which ETFs from the universe I track are falling within the guidelines specified.
————————————————————-
READER Q & A FOR THE WEEK
All Reader Q & A's are listed at our web site!
Check it out at:
https://theetfbully.com/questions-answers/
———————————————————-
WOULD YOU LIKE TO HAVE YOUR INVESTMENTS PROFESSIONALLY MANAGED?
Do you have the time to follow our investment plans yourself? If you are a busy professional who would like to have his portfolio managed using our methodology, please contact me directly or get more details at:
https://theetfbully.com/personal-investment-management/
———————————————————
Back issues of the ETF/No Load Fund Tracker are available on the web at:
https://theetfbully.com/newsletter-archives/
Contact Ulli