[Chart courtesy of MarketWatch.com]
1. Moving the Markets
Well, volatility continued to shake markets today as the S&P 500 fell 0.84%, the Dow dropped 1.06% and the Nasdaq declined 0.29%. It could have been a lot worse, as the Dow was down at one point by some 400 points. However, there were six stocks in the Dow that posted notable gains: Johnson & Johnson (JNJ) and General Electric (GE) being two of them.
Airline stocks took a hit today amidst growing concerns over the Ebola virus and global economic uncertainty. United Continental (UAL), Delta (DAL) and American Airlines (AAL) all fell more than 4%. Several carriers saw record profits in the previous quarter, however, as you can see, there are other points of focus for investors in the wider scheme of things.
A bit of interesting news came in from Lockheed Martin Corp, who said today that it had made a technological breakthrough in developing a power source based on nuclear fusion. If it proves feasible, Lockheed's work would mark a key breakthrough in a field that scientists have long eyed as promising, but which has not yet yielded viable power systems. Tom McGuire, who heads the project, said that the first reactors, which could be ready in ten years, would be small enough to fit on the back of a truck.
With the markets continuing to slide deeper into bear market territory, investors hope that favorable upcoming earnings reports can keep the indexes from diving too. For the time being, cash is king!
All of our 10 ETFs in the Spotlight joined the downward trend and closed lower.
2. ETFs in the Spotlight
In case you missed the announcement and description of this section, you can read it here again.
It features 10 broadly diversified ETFs from my HighVolume list as posted every Monday. Furthermore, they are screened for the lowest MaxDD% number meaning they have been showing better resistance to temporary sell offs than all others over the past year.
Here are the 10 candidates: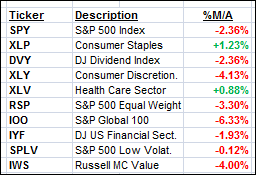 While our Trend Tracking Indexes (TTIs) are in "Sell" mode, I am featuring this table to simply demonstrate the magnitude with which some of the ETFs are fluctuating in regards to their positions above or below their respective individual trend lines (%M/A).
Year to date, here's how the above candidates have fared so far:
To be clear, the first table above shows the position of the various ETFs in relation to their respective long term trend lines (%M/A), while the second one tracks their trailing sell stops in the "Off High" column.
The "Action" column has been modified to show the effects of our Sell signals. The current "Hold" positions reflect only sector ETFs, which should be sold based on their respective sell stop points.
3. Domestic Trend Tracking Indexes (TTIs)
Our Trend Tracking Indexes (TTIs) were mixed with the International one taking a hit. After the sharp market drop early on, I used the first rebound to liquidate our last sector ETF, which puts us into cash for the time being.
If the markets slip further, I will look at some alternative assets classes that are rallying in this environment. If, however, this correction ends up being short-lived, I will look for new equity exposure once the TTIs signal the go ahead.
Here's how we closed the day:
Domestic TTI: -0.74% (last close -0.81%)—Sell signal effective 10/14/2014
International TTI: -5.78% (last close -5.33%)—Sell signal effective 10/1/2014
Disclosure: I am obliged to inform you that I, as well as advisory clients of mine, own some of these listed ETFs. Furthermore, they do not represent a specific investment recommendation for you, they merely show which ETFs from the universe I track are falling within the guidelines specified.
Contact Ulli