ETF/No Load Fund Tracker StatSheet
————————————————————-
THE LINK TO OUR CURRENT ETF/MUTUAL FUND STATSHEET IS:
https://theetfbully.com/2014/10/weekly-statsheet-for-the-etfno-load-fund-tracker-newsletter-updated-through-10232014/
————————————————————
Market Commentary
Friday, October 24, 2014
STOCKS POLISH OFF A SOLID WEEK OF GAINS AMIDST VOLATILITY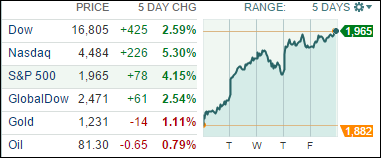 [Chart courtesy of MarketWatch.com]
1. Moving the Markets
Stocks finished notably higher on the week driven by solid U.S. economic data and corporate earnings reports. The 4.15% increase in the S&P 500 was the best weekly gain since the first week of 2013. Though markets remain volatile, Wall Street appears to focus on fundamentals as the U.S. economy continues to improve.
Investors have been buying up on the back of corporate earnings, with Caterpillar (CAT) raising earnings expectations, 3M (MMM) posting better sales across its business, Apple (AAPL), Texas Instruments (TXN) and Yahoo (YHOO) all besting expectations. However IBM (IBM), Coca-Cola (KO) and Amazon (AMZN) all fell after disappointing on earnings and forecasts.
Markets are predicted to remain attuned to the news from overseas as we head into next week, particularly from the Eurozone (Ebola/stimulus) and China (GDP growth), as well the U.S. Ebola situation and the Fed meeting next Wednesday.
For the second day in a row 9 of our 10 ETFs in the Spotlight gained while one lost. For more detail on how this rally affected our TTIs, please see section 3 below.
2. ETFs in the Spotlight
In case you missed the announcement and description of this section, you can read it here again.
It features 10 broadly diversified ETFs from my HighVolume list as posted every Monday. Furthermore, they are screened for the lowest MaxDD% number meaning they have been showing better resistance to temporary sell offs than all others over the past year.
Here are the 10 candidates: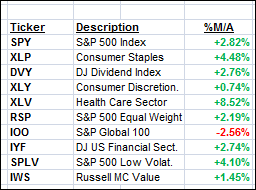 The above table simply demonstrates the magnitude with which some of the ETFs are fluctuating in regards to their positions above or below their respective individual trend lines (%M/A). A break below, represented by a negative number, shows weakness, while a break above, represented by a positive percentage, shows strength.
Year to date, here's how the above candidates have fared so far:
To be clear, the first table above shows the position of the various ETFs in relation to their respective long term trend lines (%M/A), while the second one tracks their trailing sell stops in the "Off High" column. The "Action" column will signal a "Sell" once the -7.5% point has been taken out in the "Off High" column.
3. Trend Tracking Indexes (TTIs)
Our Trend Tracking Indexes (TTIs) joined this week's rally generating a new Buy for the domestic one on 10/22/14. While the international one greatly improved, it still remains stuck in bear market territory.
Here's how we ended the week:
Domestic TTI: +1.54% (last Friday -0.22%)—Buy signal since 10/22/2014
International TTI: -2.40% (last Friday -4.75%)—Sell signal since 10/1/2014
Have a nice weekend.
Ulli…
Disclosure: I am obliged to inform you that I, as well as advisory clients of mine, own some of these listed ETFs. Furthermore, they do not represent a specific investment recommendation for you, they merely show which ETFs from the universe I track are falling within the guidelines specified.
————————————————————-
READER Q & A FOR THE WEEK
All Reader Q & A's are listed at our web site!
Check it out at:
http://www.successful-investment.com/q&a.php
Reader Dennis:
Q: Ulli: Your blog is VERY much appreciated, especially your book "How to Beat the S&P using the S&P 500…" Question: Does your proprietary Domestic TTI affect the way the HOT LIST of 10 ETF's are managed?  If I am tracking correctly, not all of the ETF's on a Sell have reached a 7.5% sell-stop…have they?
A: Dennis: Yes, the TTIs affect the 10 ETFs in the Spotlight. Absent of any major downturn and, while the TTIs are on the plus side of their respective trend lines, the trailing sell stops give you the signal when to exit the market.
However, if the TTIs move into bear market territory before a trailing sell stop is triggered, then they will override the sell stop discipline. It is the indicator which has reliably signaled major trend changes in the market for some 25 years.
To clarify again, if the International TTI drops below its trend line, it will affect all "broadly diversified international mutual funds/ETFs." If the Domestic TTI drops below its trend line, all "broadly diversified domestic mutual funds/ETFs" are affected.
Sector and Country funds should be sold based on their respective sell stops giving the signal.
———————————————————-
WOULD YOU LIKE TO HAVE YOUR INVESTMENTS PROFESSIONALLY MANAGED?
Do you have the time to follow our investment plans yourself? If you are a busy professional who would like to have his portfolio managed using our methodology, please contact me directly or get more details at:
https://theetfbully.com/personal-investment-management/
———————————————————
Back issues of the ETF/No Load Fund Tracker are available on the web at:
https://theetfbully.com/newsletter-archives/
Contact Ulli