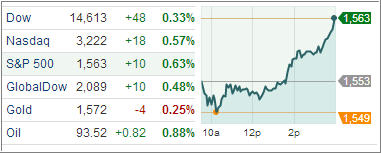 [Chart courtesy of MarketWatch.com]
The major index ETFs advanced Monday, shedding early losses as investors grew optimistic first quarter earnings would help equities rebound from their biggest weekly decline of the year.  The gains were modest as buyers came in because they needed/wanted additional exposure in equities.
Federal reserve Chairman Ben Bernanke is scheduled to address a conference in Atlanta after today's close, with investors looking for hints as to how long the central bank intends to continue its easing policies.
After sliding 67 points, the Dow Jones Industrial Average (DJIA) finished 48 points higher. The trend turned positive with 21 of the 30 components within the blue-chip index finishing higher for the day, led by Bank of America Corp and Coca Cola Co.
The S&P 500 Index (SPX) rose 10 points with consumer stocks gaining the most. Nine of the 10 business groups within the benchmark index advanced with telecommunications being the sole laggard.
Treasury prices fell, pushing yields higher and narrowing the spread between 10-year and 30-year debt the most since November, after a smaller than forecast job gain in March indicated the Federal Reserve will keep purchasing debt to spur growth.
Meanwhile, the US dollar advanced against most of its major trading counterparts Monday after the Bank of Japan began its massive stimulus program. The US unit bought 99.21 yen Monday, up from 97.33 late Friday, with analysts forecasting the 100-mark breach within a week.
European stocks climbed across the Atlantic, rebounding from last week's three-day sell off, as German industrial production gained more than forecast and investors awaited the beginning of earnings season in the US.
Most European exchanges advanced except Portugal as the country's high court struck down some of the government's austerity measures affecting public-sector employees, cutting back Lisbon's access to the 78 billion euro bailout package.
The DAX 30 index rose 0.1 percent in Frankfurt after a report showed Germany's current account surplus jumped to a near 7 percent of GDP last year; the FTSE 100 index rose 0.4 percent in London and the CAC 40 index added 0.1 percent in France.
Our Trend Tracking Indexes (TTIs) recovered from Friday's pullback and ended up higher with the Domestic TTI reaching +3.41% while the International TTI showed signs of life again by rallying to +6.49%.
Contact Ulli