Here is a quick ETF review of the past week's Leaders and Laggards from my High Volume ETF Master list: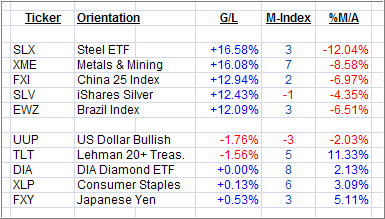 Leading the charge this week was last week's Laggard, namely SLX, which moved from the dead last position into the first one.
It's interesting to note that all Leaders have shown huge gains over the last 5 trading days, yet they all remain in bearish territory below their respective long-term trend lines (%M/A column), while 4 out of the 5 Laggards are positioned in bullish territory.
This supports my long held view that rallies resulting from a bear market position can be of far greater magnitude than those we witness once a bull market has been established. Of course, a sudden turnaround from bearish to bullish, such as in SLX, is impossible to anticipate.
Nevertheless, last week's bullish run has improved the domestic ETF picture quite a bit as more equity ETFs have moved above their trend line. As I reported in yesterday's High Volume ETF Cutline Report, there are now 27 ETFs hovering in bullish territory as opposed to a scant 8 at the end of last week.
If you are trying to get your feet wet in the market, and want some limited equity exposure, be sure to pick from those positioned above their trend lines, and be sure to always have my recommend exit strategy in place.
Disclosure: Holdings in XLP
Contact Ulli